Ann Weber: O What Fools We Mortals Be
341-B S Avenue 17
Los Angeles, CA 90031
Directions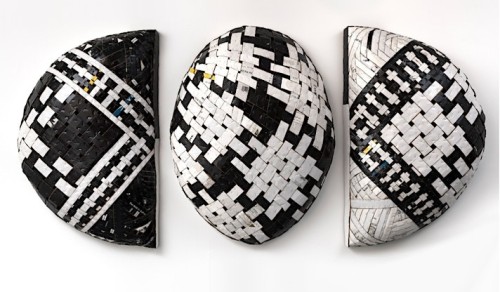 Wönzimer Gallery, is pleased to announce its first solo exhibition with Ann Weber.
Step into a world of monumental, sensuous, and anthropomorphic sculpture, made from discarded cardboard boxes. Most of Weber's pieces reference her personal life and the current state of the world.
Ann Weber's technique of weaving with cardboard strips to provide structural strength is a metaphor for the artist's lifelong practice of bringing people together. Based in Los Angeles, Weber creates large-scale forms exploring the themes of relationships, community, and sustainability. After years of making functional pottery in New York City, she relocated to California. She turned to cardboard for its lightness, inspired by Frank Gehry's cardboard furniture. Each sculpture is crafted from foraged boxes, assembled with stapled strips, and animated by the found juxtaposition of printed colors and letters. And in the 21st century, the vast proliferation of excess cardboard shipping detritus has amplified the meaning of the material she has been utilizing since 1991: in her hands, this unassuming substance narrates universal connectivity and our shared human experience.
The title piece in the show,"O What Fools We Mortals Be", slightly revises the famous quote from Shakespeare's Midsummer Night's Dream. Using simple forms, the piece conveys, through texture and pattern, the complicated intricacies of life. "The genesis of Tender Mercies" lies in a challenge the artist gave herself to create three forms from one 4 x 8-foot piece of cardboard, wasting little while creating something dynamic. The phrase "tender mercies" derives from the Hebrew tradition of a very personal and individualized blessing.
Ann Weber was born in 1950 in Jackson, Michigan, and earned her BA in art history from Purdue University in 1972. After living in upstate New York and New York City, Weber moved to California to pursue her MFA at the College of Arts and Crafts in Oakland, where she studied with Viola Frey. She was awarded a Pollock Krasner Grant in 2018. Weber's work has recently been exhibited at the San Francisco Museum of Modern Art; Long Beach Museum of Art; Craft Contemporary Museum in Los Angeles; The Boise Art Museum and Torrance Art Museum. Notable coverage includes the Los Angeles Times, Sculpture Magazine, Artillery, and online publications. Her cardboard sculptures have been cast in bronze and fiberglass for private clients and public art projects in Phoenix, Denver, Sacramento and Emeryville, California.