Rachel Martin: This ain't my first life, won't be my last
7424 Beverly Blvd
Los Angeles, CA 90036
Directions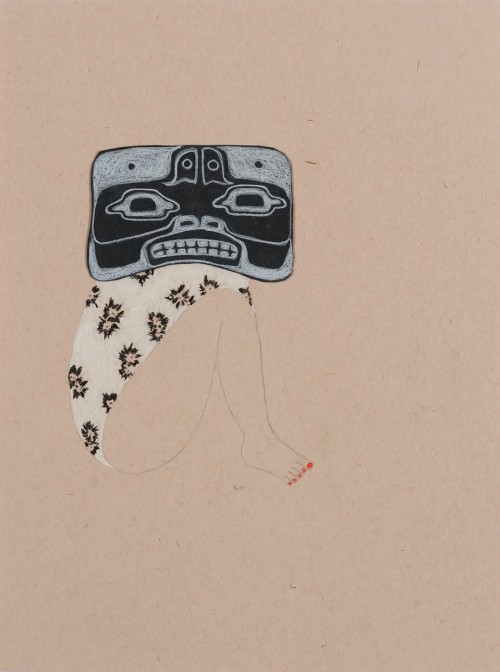 Rachel Martin makes personal drawings that explore how aspects of cultural heritage and family history are part of contemporary, lived experiences. Her artworks are made intuitively, based on both memories as well as ongoing observations. 
Small details, recalled from the recent or distant past, can become starting points. The number of hairs on a sweater from childhood, or the soft crinkles on that moth's nose spotted yesterday. Many of her drawings engage with the history of Formline design. Other works visualize connections with the natural world. They address Tlingít tribal identity, intersectional feminism, and Indigenous sovereignty. Martin is a beginning level Tlingít language student, and her continued studies of the language often inform and inspire her drawings. However, the traditional elements of Northwest Coast iconography and aesthetics are combined with signs of more contemporary life. Figures wearing masks, or hybrid human-animals, are shown dressed in stylish and sensible floral-patterned summer clothes, Converse Allstars sneakers, and bowties. Ideas of modern matriarchal figures are blended with historical antecedents. The narratives become stories of today, that extend into tomorrow, while still honoring the oral history that has been passed down. Humor is employed to relate them from a multi-dimensional place, and as a subversive method to introduce deeper topics. These juxtapositions and amalgamations of past and present in the drawings, and the activities of the figures depicted, are not always neatly resolved or fully explained. The narratives are introduced, engaging questions are raised, but it is a deliberate choice to keep the door open to further discussion and contemplation.
Rachel Martin is an enrolled Tlingít multi-disciplinary artist who lives and works in Queens, NY.
She took courses at Otis College of Art and Design, but is primarily self-taught.
Her work was recently acquired by the Hessel Museum CCS at Bard. Her work is also in the collections of the Anchorage Museum in Alaska and the Forge Project in Upstate New York, and has been on view at the Sealaska Heritage Institute, Idyllwild Arts, the Anchorage Museum, MOCA Tucson, and featured in the New York Times.