SOUMYA NETRABILE: BETWEEN PAST AND PRESENT/ BETWEEN APPEARANCE AND MEMORY
6150 Wilshire Blvd
Los Angeles, CA 90048
Directions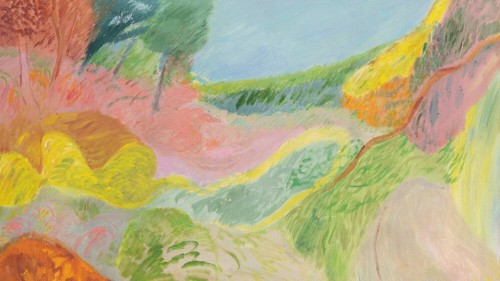 Mining memories from daily walks in nature, Soumya Netrabile's works emerge from the phantasm of a breeze, the record of a cosmic wrinkle. Working intuitively, many things about these environments are dubious, are channeled from a place of lyricism and abstraction into a personal vernacular of painting. Within flaming forests of green, amber, and peach, real space dissolves into mists of tenderness enfolded in mountains of longing. Occasional animals or figures appear from scrawled yet intentional flickering brushwork: haloed, dwarfed by their swirling surroundings.
Netrabile is a painter who thinks like a poet, using paint to suggest something larger, something deeper, sharper, enchanted, bewitching. Formal choices, light, color, and gesture, emerge from internalized locations beyond logic and justification. It's her familiarity with her subject which allows her to unlock profound memories of being enveloped in nature's canopy onto canvas and the simultaneity of all these elements compressed onto one surface.
Guided by the freedom of roaming through the woods, allowing her mind to wander through daydreams, Netrabile's approach to painting begins with an openness. Each painting is a new path, unfolding as she goes. She doesn't have a system; she works with intensity and patience, considering formal questions of structure, composition, and density. One approaches the paintings expecting to witness a landscape, but after a moment you may have tumbled in—following a bird through sun dappled woods, crawling through damp grasses and brambles. Without realizing you've drunk from the brook, put a leaf in your mouth. 
Included among the paintings in the exhibition is a nearly 30-foot continuous drawing, displayed flat on a table—allowing for viewers to forge their own path through the haunts of Netrabile's rigorous drawing practice. Returning to the studio with these embodied memories, Netrabile emphasizes direct experience and intimacy rather than portals and vistas; show, don't tell. Poetic and metaphysical connections are the result of steady drips of daydreams, painterly transmissions through a method of sustained focused noticing, one that is transformational, precise, and open.
Soumya Netrabile (b. 1966, Bangalore, India) received a BFA from the School of the Art Institute of Chicago and a B.S. in Electrical Engineering from Rutgers University. Recent solo exhibitions include Pt.2 Gallery, Oakland, CA; Andrew Rafacz, Chicago, IL; and The Journal, New York, NY. Netrabile has exhibited in group exhibitions at galleries including Anat Ebgi, Los Angeles, CA; Rachel Uffner, New York, NY; Trinta Gallery, Santiago de Compostela, Spain; Indigo + Madder, London, UK; and Karma, New York, NY. The artist lives and works in Chicago, IL.