MING YING: RUNWAY
4859 Fountain Ave
Los Angeles, CA 90029
Directions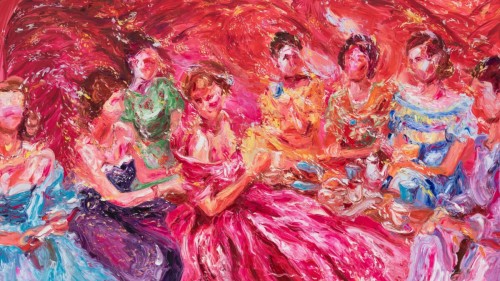 In vibrant jewel-tones, Ming Ying captures romantic and psychedelic scenes of desire within social gatherings—picnics, parties, dinner. These compositions, primarily group portraits, veer at times into the realm of abstract, dreamy, and non-real. Heavily impastoed in oil paint, Ying is ever prodding us into psychological and emotional territory. She begins, holding a character in her mind, then zeros in on a situation, say having tea. This all leads to color choices and churning on the canvas until she achieves just the right balance between atmosphere and narrative. The opulent application of paint is echoed in the choice of attire–frills and lace and flouncing hair recalling centuries past. Likewise Ying engages compositionally reminiscent motifs of late-19th century French painting.
Her subjects retain a layer of anonymity with blurred, indistinct faces, symbolizing complex tensions between presence, absence, alienation, and interiority. In other words, my body is here, but my mind is elsewhere. Ying's mannequin-like figures, adorned in theatrical dress, situated in dramatic environments remain faceless, nameless, emotionally adrift—illuminating a tension between feelings of enjoyment and detachment. 
Born in China, living and working in London, far from home, Ying's works contemplate unfamiliar environments and personal experiences of marginalization; she expresses a yearning, a longing for social connection through her depictions of cheerful sociality. Scale introduces uncertainty as well. Exceptionally ornamental and sensual, these are paintings you can hear: prattling coquettes, clinking stemware, hired musicians—the whispers, toasts, gossip, and jokes—if only pictures could talk. 
Ming Ying (b. 1995, China) received her MA degree from Royal College of Art in 2020. Since completing her education, Ying has shown her work in solo and group exhibitions at Anat Ebgi, Los Angeles, CA; Perrotin Gallery, New York, NY; Cob Gallery, and London, UK; Katonah Museum of Art, Katonah, NY; JD Malat Gallery, London, UK; and Longstoryshort, New York, NY. In recent years her work has been awarded and shortlisted for a number of prestigious prizes including: First prize of "Effect Edge" International Juried Exhibition (2019); Winner of Khojaly Peace Prize for Art (2017); Chadwell Award (2020) Lynn Painter-Stainer Prize (2018); Ashurst Emerging artist prize (2018). Ying lives and works in London, England.