SHINGO FRANCIS: LIMINAL PRESENCE
Nov. 18, 2023 – Jan. 6, 2024
2525 Michigan Ave, E-1
Santa Monica, CA 90404
Directions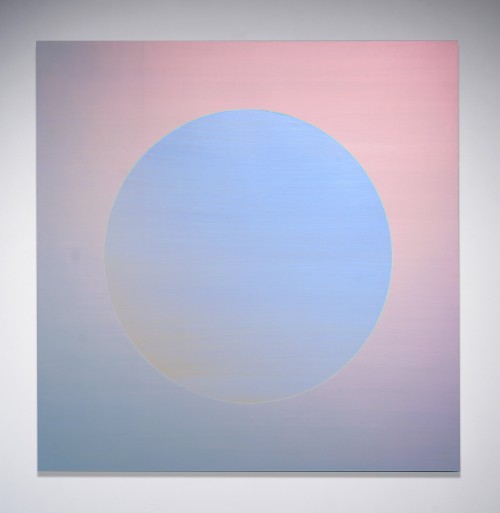 "Artwork is transformative. If it can release a kind of energy that has been stored, it can be a cathartic experience. I think we all need that in some way, from all kinds of art. It's a release. " - Shingo Francis
Utilizing interference paint, a medium with mercurial properties, Francis dials into the phenomenology of perception to produce works that resonate with subtle shifts of color to extraordinary effect. Their nuance invites a quiet curiosity, provoking a sense of wonder as one moves Zen-like into an exploration of engaged contemplation on the cyclical nature of time and liminal space.
With a Japanese mother and American father, Mako Idemitsu and Sam Francis, highly regarded artists themselves, Shingo Francis grew up between Tokyo and Santa Monica, immersed in art and absorbing the sensibilities of both cultures. 
Early professors noted the young artist's eye for color and interest in the color theory of Joseph Albers. On a trip to Paris, Francis sought out the great abstract painter, Joan Mitchell, for her feedback on his work. She told him, "You can paint, but you're just illustrating. It's just empty. If you really want to paint, you're going to have to reach deep inside and pull it out." This had a profound effect and inspired Francis to think about his work in more intimate, contemplative terms.
Accordingly, Francis' work investigates and synthesizes traditional Japanese philosophies and aesthetics with Southern California practices. He employs many Japanese concepts such as: "wabi-sabi", an acceptance of transient and austere beauty; as well as "Yūgen", a concept of profound and mysterious beauty, often associated with the subtle and hidden. The concept invites viewers to engage more deeply with the art and environment, encouraging a contemplative and engaging approach to perception. Francis harnesses these observances into a process-based practice of abstraction, with clear connections to Light and Space and Southern California's influences. Observing environmental permutations are a part of this practice. Francis notes that the northerly atmosphere in Japan casts a cooler light which is bluer, while the Southern Californian sun is warmer offering a fuller spectrum. 
In Liminal Presence, Shingo Francis has utilized the uniquely, expressive properties of interference paints to exploit their ever-shifting character. The paint contains very small beads of mica particles suspended in an oil medium. This creates an optical effect, with the beads splintering the spectrum of light to produce color, similar to the way rainbows prism light through atmospheric water. The gossamer-like paint particles are cut at angles which determine which spectrum of color one sees. The beads themselves are void of actual pigment.  Shimmering colors shift as the viewer moves and changes perspective. The resulting paintings are paradoxical in nature, at times minimal in their subtlety, at others, dazzling spectacles of color.
The paintings also serve to explore the abstract nature of perception, which extends beyond the works as "art objects", to underscore their role as "catalysts" for a deeper awareness of the viewer's presence in time and space.
Shingo Francis was born in Santa Monica, California in 1969. He received a Bachelor of Arts degree from Pitzer College in Claremont, and a Master of Arts degree from ArtCenter College of Design, in Pasadena. Francis' work has been exhibited in Japan, United States, Germany, South Korea, and Switzerland. He has a solo exhibition at the Chigasaki Museum of Art in 2024 and has been included in museum shows at the Kawamura Memorial DIC Museum of Art, Sezon Museum of Modern Art, Ichihara Lakeside Museum, the Martin Museum of Art, Hermes Art Foundation, and the Frederick R. Weisman Art Foundation. He received the Fumio Nanjo Award in Tokyo. He currently divides his time between Los Angeles and the ancient coastal town of Kamakura, Japan.