Eric Yahnker: Lost Angeles
844 N La Brea Ave
Los Angeles, CA 90038
Directions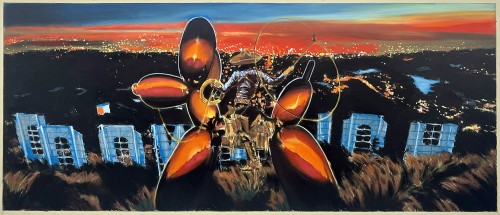 The Hole is excited to announce our fifth solo exhibition of new works by Sky Valley–based artist Eric Yahnker (b. 1976). Yahnker lived in Los Angeles for 40 years until, in what he calls a "reverse David Hockney," he moved away to gain some perspective. In a corkboard-covered front room he pins up in paranoiac style an assortment of interrelated images. These 26 drawings and two video works in Lost Angeles are about getting lost, mourning loss, and completely losing it in LA.
Fresh out of CalArts in the early aughts, Yahnker worked as an animator for South Park, MADtv, Seinfeld and a slew of commercials—until the day he turned to the artist he would one day marry and said "You look like you're having more fun than I am." It was 2004, and Yahnker was working on a Microsoft campaign called "We See Your Potential." He quit, found a studio space on Skid Row and stayed there for 16 years, first making labor-intensive conceptual works like American Socrates, 2006 (Stephen R. Covey's "7 Habits of Highly Effective People" re-written with his foot), and Beegeesus, 2005 (a bible completely whited-out except for the letters that sequentially spell "BeeGees").
The Yahnker of today works in drawing mediums on paper, but it's that same satirist's spirit, underpinned by a fanatical commitment to his projects, that unites his oeuvre. From a technical standpoint, Yahnker has embraced draftsmanship with such delight that he likes leaving patches of cross-hatching or some of his first marks visible, rather than obscuring his effort by pushing colors to full saturation, what he calls "finish fetish."
Of the nine panoramic landscapes in pastel on sandpaper, four are titled Lost Angeles (Balloon Ride), featuring a vaquero astride a Jeff Koons balloon dog, lasso mid-swing, surveying a dramatic cityscape. In another, Lost Angeles #24, Kobe Bryant's jersey floats high in an evening sky over the valley. There are boobs under a baby tee and velour-clad Juicy™ butts, center-frame, upstaging the Hollywood sign. These drawings are cinematic and evocative in a way that needs no explanation, but if you were to ask Yahnker about them he might say, "Did you know Los Angeles is short for El Pueblo de Nuestra Señora la Reina de los Ángeles del Río Porciúncula?" or, "There was a time when I myself had sculpted eyebrows and frosted tips."
Of Self Flagellation, featuring Will Smith: "Something happened that night that was so internal and at the same time so universal, the difference being that our own Beelzebubs don't escape on stage at the Oscars." And, although this exhibition depicts public figures, "they are stand-ins for my own madness, loneliness and grief. Fairly or unfairly, things I'm too insecure to share get grafted onto these subjects. They are my outlet to hide in, but in truth, all the warts, bruises and masks they wear are my own."
Eric Yahnker (b. 1976 Torrance, CA) lives and works in Los Angeles, CA. After studying journalism at USC, Eric Yahnker went on to the CalArts where he received his BFA in animation. He then worked on animation for TV, including Seinfeld, South Park, and MADtv, before switching to a career in the contemporary art world. Since 2008, Yahnker has had solo exhibitions at The Hole in New York, Ambach & Rice and Zevitas Marcus in Los Angeles, Paradise Row in London, and Jeanroch Dard in Paris. Recent group exhibitions include Brand New Gallery in Milan, M+B in Los Angeles, the Torrance Art Museum in Torrance, TX and Galerie Ampersand in Cologne. His first museum solo exhibition The Long Goodbye took place at CAM Raleigh in North Carolina in 2017.