Dan Attoe: Dead Of Winter II
844 N La Brea Ave
Los Angeles, CA 90038
Directions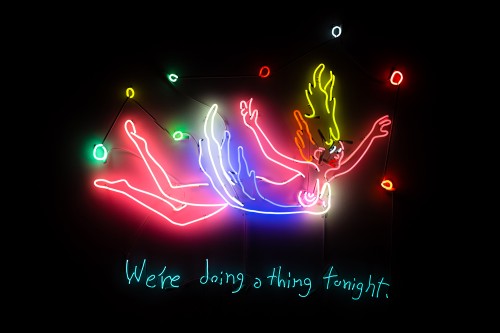 The Hole is proud to announce a forthcoming solo exhibition of neon wall sculptures by Northwestern artist Dan Attoe: Dead of Winter II.
Further developing the body of work he presented last winter in our Tribeca gallery, Attoe (b. 1975, Bremerton, WA) revisits an important aspect of his oeuvre, the neon wall drawing. Known for painting immaculate and haunting miniature oil on canvas works of man and nature, Attoe nonetheless has always maintained active engagement with the medium of neon. I remember in 2008 showing a great neon work by him with Deitch Projects in Miami; "There is electricity in your head." The texts are always provocative non-sequiturs that set off the edge of the image paired with it.
The works in the show capture that bleak and interminable holding pattern of humanity that counterintuitively occurs in the shortest months of the year. In New York where this series debuted, Seasonal Affective Disorder sufferers (aptly abbreviated as SAD) wander the snowy streets or most likely hide at home. If 2023 has given us any lessons so far, it's that Angelenos are far from exempt from grey skies and matching moods.
An illuminating lady offers some light at the end of the winter tunnel, tho perhaps quixotically: floating or falling in a sea of bubbles, she says, "we are doing a thing tonight." This work brings us back to the reason Attoe has maintained a relationship to neon which is its ability to connote both Las Vegas seduction and an immediately legible middlebrow appeal (as a material, the stuff is ubiquitous). There might be tantalizing possibilities in "a thing," but the casual non-specificity of the proposition hints that we're likely better off skipping it.