Jeffrey Vallance: Kinkadian La-Z-Boy Room
1010 N Highland Ave
Los Angeles, CA 90038
Directions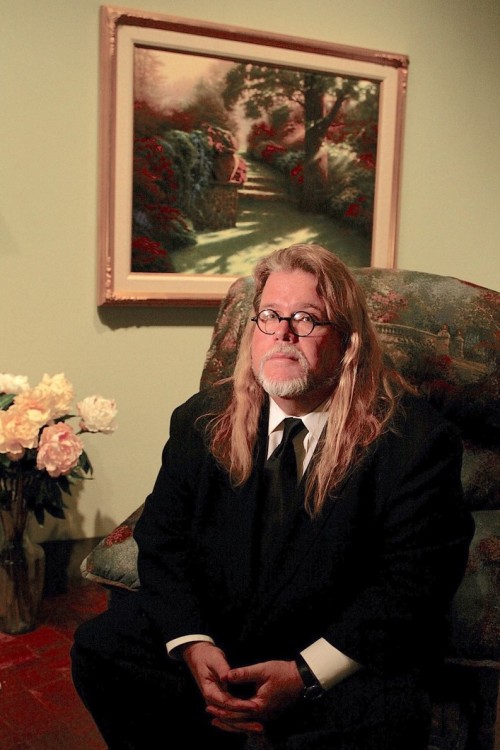 Tanya Bonakdar Gallery is pleased to announce Kinkadian La-Z-Boy Room, a new installation by Jeffrey Vallance on display in the Project Room for the Los Angeles Gallery. The installation will feature sculpture, painting, and works on paper that share a common theme related to the artist's friendship with the late painter Thomas Kinkade.

For nearly forty years Jeffrey Vallance has turned a critical and humorous eye toward his own wide-ranging experiences, using his adventures as the basis for his drawing, sculpture, installation, and performance based pieces. Collecting objects of personal significance, Vallance fabricates unique displays for these items that transcend mere presentation, to address themes of faith, myth, celebrity, ritual, popular culture and the supernatural.  

This newest presentation highlights the artist's relationship with Thomas Kinkade, one that after the artist's death, Vallance characterizes as paranormal and prescient:

PROPHETIC DREAM WITH THE SPIRIT OF THOMAS KINKADE

On April 6, 2012, artist Thomas Kinkade died. His passing was just a couple of months apart from my other artist friend Mike Kelley. I was devastated. I may be the only person who knew both artists personally. It seemed like there were two massive holes in the art world space/time continuum. Both Thom and Mike were at the top of their game and monumentally successful in completely different ways. At the time of Mike Kelley's passing I was working on a painting of Mike, but soon the artwork seemed more like a memorial to him.

Soon afterward I had series of strangely vivid dreams with Thomas Kinkade which seemed more like spiritual visitations. In the first dream I was in Kinkade's studio called Ivy Gate. It has a big stone fireplace modeled after the one in the Ahwahnee Hotel (formerly The Majestic Yosemite Hotel).In the dream, Thom looks at me and says, "Jeffrey, there is something I want to show you." He opens a secret door and inside there were paintings that looked very different from the ones that Thomas Kinkade is famous for. Inside, Thom shows me paintings that seem very "dark," painted in grays and browns, not his usual trademark pastel colors. They are urban cityscapes with industrial buildings and dark boiler room scenes. I say to him, "Wow! These are so great!" He then gives me a big bear hug and he starts crying. I can feel him trembling. When I woke up, I could still feel him hugging me. The dream seemed hyperreal and more vivid than other dreams.

In 2016 at a kitsch symposium titled A Matter of Taste: Art, Kitsch, and Culture at Nora Eccles Harrison Museum of Arts, Utah State University in Logan, Utah, I was in the same panel discussion with Thomas Kinkade's family. We were all in Utah for three days. Many time in my life, I have had an intuitive urge to ask a very awkward question, a question that might make me seem crazy or might open a very strange unknown door. At the end of the conference, I thought "What the Heck," and I told them the dream. Immediately, almost in unison, they excitedly asked, "Oh so you've seen the paintings in the Vault?"  But I hadn't seen them in real life, only in my dream. Later I was invited back to Kinkade's studio and they opened the secret vault, and I beheld the exact same kind of paintings I had seen in my dream. The Vault work is not only dark in color, but psychologically dark as well. When I was in the Vault looking through the paintings, I came across many of the same ones that I'd seen in my dream. Being in the Vault felt so casual and natural to me, like I was supposed to be there, however I was aware that I was in the midst of a paranormal experience. I'm not saying I'm psychic, but something happened in that Vault. I leave open the possibility that because I'd known Kinkade since the 2004 Heaven on Earth exhibition that I curated, deep in my unconscious my mind had been chewing on the idea that if Kinkade makes these candy colored sentimental paintings, then he must also make the diametrically opposite kind of paintings. So fantastically, my mind fabricated the paintings and showed them to me in a dream (which is almost as unbelievable as psychically viewing them). The only problem with that was that one of the paintings showed some gray pipes in a corner of a room. Later we found some of his notes in which he writes about painting some pipes in the corner of his studio when he was an art student at UC Berkeley.  

I had several more dreams in which Kinkade wanted to show me something. In one dream Thom showed me a stack of papers. I told the Kinkade family, and the next day they found a stack of papers that turned out to be notes Thom was writing for a movie script about his life's story. In another dream, I saw bronze being poured into a mold. Soon I was at Kinkade's studio again. I was talking about the new dream and I asked, "Did Thom ever make any bronze sculpture?" Before I finished the sentence, Kinkade's wife, Nannette, who hadn't heard me talking, came walking in from another room holding a bronze casting of Thomas Kinkade's hands in the famous pose of Albrecht Dürer's Praying Hands (or Studie zu den Händen eines Apostels).

Kinkade not only had light and dark artwork, but he also had a light and dark aspect to his personality. The darkness manifested itself as an alter ego named Ed Aknik (Kinkade spelled backwards). The Aknik persona was a rowdy biker character dressed in black. He rides a Harley. He wears motorcycle shades with a rebel bandana. Sometimes he wears a fake beard. As a prank, Kinkade dressed up as a gnarly biker to be an extra in his own 2008 film Thomas Kinkade's Christmas Cottage. (You can view it on the Special Features of the DVD.) Thom often told me that he wanted to dress in black leather and do performance art. So here it is: Thomas Kinkade's secret and very funny performance art piece. In this little known clip, Thomas (disguised as a biker) ironically disparages his own paintings of cottages. Aknik says, "This artist Kinkade, you know, I've seen his work. To me, you know, I'm not into art. What? Who wants a painting of a cottage? If I want a painting, I want a painting of a chick!" There seems to me more truth in this than he may have intended. Not many people seem to know about this dark side of The Painter of Light.

I'm now working on curating a major exhibition of the Vault work. Also a documentary film based on my research Art for Everybody is showing at film festivals throughout the U.S.


Born in 1955 in Redondo Beach, California, Vallance currently lives and works in Los Angeles. Recent exhibitions include In Search of the Miraculous, The FLAG Art Foundation, NY, 2021 (group); Strange, UC Berkeley Art Museum and Pacific Film Archive (BAMPFA), California, 2019 (group); Dirty Protest: Selections from the Hammer Contemporary Collection, Hammer Museum, Los Angeles, 2019 (group); The Vallance Bible, Centre d'édition contemporaine, Geneva, Switzerland, 2012 (solo); The Word of God, Andy Warhol Museum, Pittsburgh, PA, 2011-2012 (solo); and The Spectacular of Vernacular, Walker Art Center, Minneapolis (group), which traveled to the Contemporary Arts Museum, Houston, TX, Montclair Art Museum, Montclair, NJ, Ackland Art Museum, University of North Carolina at Chapel Hill, NC, 2011-2012 (group), among others.