MSR FCJ Pap Er Popper Sound
Simchowitz DTLA
727 East Washington Blvd
Los Angeles, CA 90021
Thurs - Sat 11am - 5pm
Directions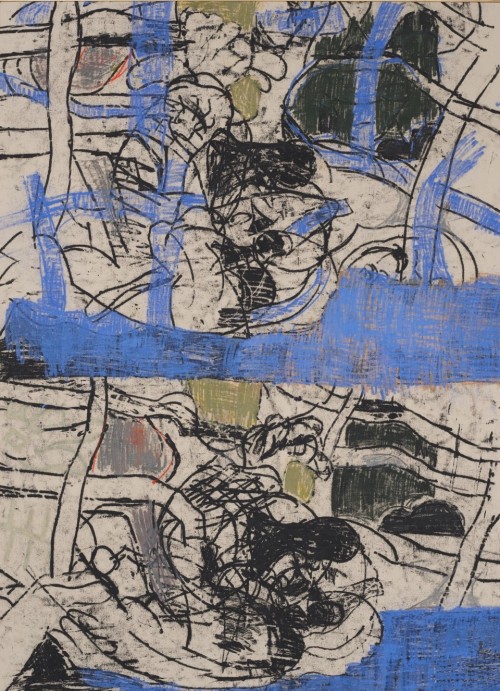 Owing their appearance to classic, intuitive abstraction, but immersed in the graphic urgency of zines and comic books, Mike S. Redmond (b. 1987) and Faye Coral Johnson (b.1988), create drawings and painting that often come off as strange, erratic transmissions from another time and place. The title of the exhibition, 'Pap Er Popper Sound' is a reference to those folded paper sheets, or handmade poppers, used by school kids to scare unsuspecting friends. But for the UK-based duo who go by the moniker MSR FCJ, it's also a reference to those hazy, early morning moments when you're half asleep and cartoons are playing on the tv. "When in-between worlds
merge together" they say, anything can happen.
Much of their practice is dedicated to finding a similar, "in-between state" as they call it, where figures might swap, blur and fold into one another. That's partly due to their ability to work off one another, and partly due to their love of mutation as an aesthetic process—a process they compare to "Frankensteining." "We're really interested in finding little pockets of something, a surprise, a transformation, something not precious or too direct," explains MSR. "Something lived in, with depth, story and an ephemeral, destructive energy. It's like a pile of rubbish carrying so many things, all mushed together, things joining that shouldn't, degrading together, with different angles and stories and things to find."
Ergo their paintings often feel like found pieces of paper, scuffed up and mangled; where barely legible images might hint at larger, more complex stories. Many employ tropes from comic books, such as unfinished dialog boxes and/or speech bubbles, or juxtaposing two images side by side as if pages in a book. Such elements belie their background in illustration, comics and DiY publishing, as do their emphasis on the graphic line and the use of text and titles. However, MSR FCJ's process is actually more in line with Surrealist games than the graphic arts, where chance accidents are encouraged and exploited. It's a process that could be compared to the collaboration between Salvador Dali and Luis Bunuel when they wrote Un Chein Andalou (1929), where one would attempt to come up with an utterly, indecipherable image, while the other would either debunk it or counter it. "[Our process] is about repeated and deliberate estrangement of image making that often involves destroying and remaking each other's work," says MSR. Even if that means working "on top of each other at the same time like a cartoon fight, with shoes flying out of a cartoon cloud!"
Since 2006 MSR FCJ have been published worldwide and exhibited throughout the UK, France, Belgium, Denmark and Sweden. They have been awarded residences in the UK, France, Switzerland, Sweden, and South Africa.