Lady Skollie: COY KHOI
Simchowitz DTLA
727 East Washington Blvd
Los Angeles, CA 90021
Thurs - Sat 11am - 5pm
Directions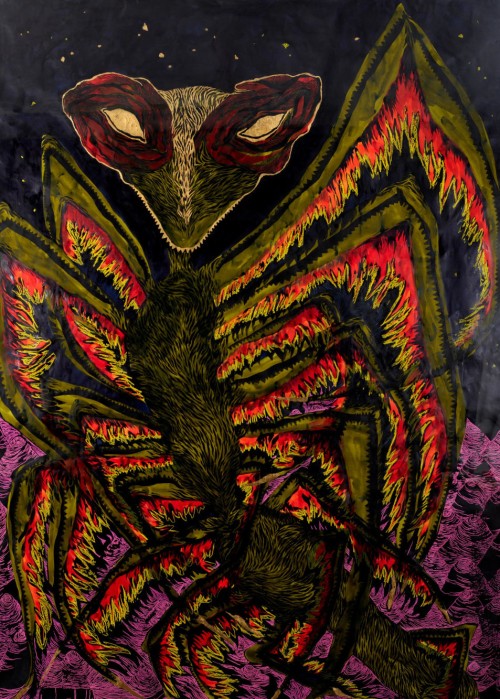 It's easy to believe that you're reading confessional diary entries when reading the titles of Lady Skollie's paintings, i.e.: A Self Portrait of the Artist Wrestling with Her Daddy Issues Reaching Misguidedly for the Validation of Men (2016) or Sometimes Reluctantly I Reflect Upon All The Times I Allowed My Pussy To Be Colonized (2016). Of course, humor and self-deprecation can be potent munitions when used with precision, and Skollie has undoubtedly approached her practice with all guns blazing. Even her moniker, Lady Skollie, is a deliberate oxymoron that nevertheless, says so much about her practice. Skollie, whose real name is Laura Windvogel, chose 'Lady' as a reference to European traditions, while 'Skollie' is a slang word referring to masculine figures of mixed race who might be thieves or thugs. Thus her own alias captures some of the tensions that make her art so vital: the tension between male and female, the tension between high and low, the tension between occupier and
the oppressed.    
Skollie's paintings often dive headlong into some of the most difficult aspects of South African culture and its history—including identity politics, sexual politics, and the never-ending failures of the political elite. It exposes South Africa's shameful statistic as having the most rapes of any country on earth, while at the same time, trafficking in its racist history. She does this by depicting historical figures, such as Sarah Baartman for example, the Khoikhoi woman whose body was laughed at, shamed and exploited as a freak show attraction in the 19th century under the name of the 'Hottentot Venus.' She has also explored the story of Krotoa, another Khoikhoi who was a brilliant mediator between the Dutch and the Khoihoi only to end up in prostitution and imprisonment thanks to a deeply corrupt system. It's a messy, painful, chauvinistic world to be sure, but it's also a luscious, sexy, hallucinogenic one full of strong, proud women and fantastical beings who are conveyed through vivid colors and sensuous compositions. Indeed, despite their deviance and irreverence, they're utterly beguiling and beautiful to behold.
The works in COY KHOI were made between 2017-2018 and feature some of the artist's favorite paintings of her entire career. If they bare the look and feel of Khoisan drawings (aka rock art from 6000 BC), Skollie claims that it's deliberate. "I consider myself to be like a bushman or some of the first people, indigenous people, of South Africa" she says. "Cave drawings are the only thing that we really have left that symbolizes us. So I sometimes see my work as an evolved version of that."
A cave is at the center of her painting Apollo and Daphne Tale, Sisters Burning Funereal Wreaths for Catharsis (2017), which depicts two women burning Laurel wreaths. But the symbolism goes beyond the original story, which was about Apollo's insatiable lust for Daphne who refused to reciprocate until she finally had herself turned into a Laurel tree to escape his advances. Skollie's original name is Laurel, which is the feminized form of Laurus, the Latin word for laurel plant, and the two women in the painting represent twin versions of herself. "I love that story," she says, "Because it's obviously about gender-based violence. But it's also kind of funny because it's also suggesting that the only thing that a man can't soil is a tree!"
Another work, Bottlefeeding: Like the classic Image of the Champagne Flute Tower Pouring Into the Top, trickling to the bottom, Papsak Propoganda II (2018), presents an even darker tale. Here we see a European pouring wine over a woman's face, which trickles down her body. Behind her is an ocean with a settler's ship approaching and a rainbow above, and yet one can also see severed heads of other Khoisans floating below. As Skollie points out, it's about South African's Dop system, which is where colonizers were allowed to pay indentured labor with alcohol instead of money, leading to mass alcoholism and destroyed families.
Passion Gap: A Self-Portrait of the Artist Wrestling with Her Daddy Issues Reaching Misguidedly for the Validation of Men (2016) has a more sexual reference. It explores a tradition that is unique to South Africa, where people remove their front teeth to create a 'passion gap,' making it more pleasurable to kiss. The painting features two nude versions of the artist with multiple arms and golden tongues. Skollie jokes that it's a painting of herself "catfighting" with her own image, but it also refers to the time she sold her eggs to a family who ended up having twin girls.
Skollie graduated with a degree in History of Art and Dutch Literature from the University of Cape Town in 2009 and trained in printmaking. In 2022 she was named the winner of the prestigious winner of the Standard Bank Young Artist award. In 2020 she became the 10th recipient of the prestigious FNB Art Prize. In 2019 was recognized with the 2019 Mbokodo Award for Art and Design, which celebrates the pioneering spirit of South African women advancing the arts. That same year she also received the GQ Woman of the Year Award, and was commissioned to design the R5 coin to commemorate 25 years of constitutional democracy in South Africa. In 2018 she was included in OkayAfrica's 100 Women, an annual list honoring significant African woman. Recent exhibitions include solo shows at the Everard Read Gallery, Johannesburg (2021), Circa Gallery, Johannesburg (2019), the Tyburn Gallery, London (2017), the Stevenson Gallery, Johannesburg (2016), Cape Town Art Fair (2015), WorldArt Gallery, Cape Town (2015)