3-Piece
1742 N. Normandie Ave
Los Angeles, CA.
90027
Directions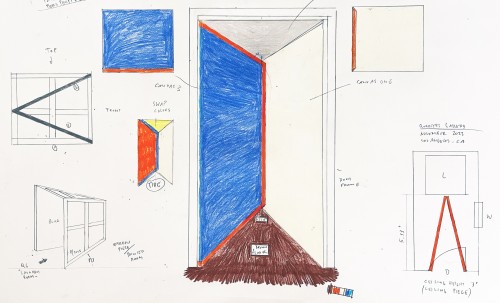 Quarter's Gallery is excited to invite you back to the Laundry Room for the opening of 3-Piece, a painting installation that will use three shaped canvases framed by the laundry room door to alter the perception of the space and what lies beyond. 3-Piece will be on view by appointment through Thursday (11/23).
Text by Clara Grillmaier
3-Piece explores the sculptural aspects of painting, creating a so-called Painting Object that plays with the relationship between form and space. Through the artist's intervention of the gallery's architecture, the space and the Painting Object interact.
The view of the object through the door suggests an optical irritation, a two-dimensional painting of a clean geometry. Solely by the awareness of one's own physical presence, experimentation with perspective, depth and distance the installation can be experienced in a three-dimensional way.
The work consists of 3 individual canvases, composed following a centralized vanishing point. Visually the pieces are connected by a straight line. The Painting Object creates its own space within the space but is enclosed in itself. What lies behind the canvas of the Painting Object remains a simulation by the visitor's imagination.  
Robert Pawliczek (b. 1986 Germany) is a Vienna based artist whose work is influenced by movement, everyday objects, and architecture. He studied painting and performative arts at the Academy of Fine Arts in Vienna & AVU Praze, Prague. Robert's work explores spatiality through a range of mediums including collages, sketches, drawings and photographs. His most recent drawings Painting a Painting Object (2023) are excursions of three-dimensionality on paper by creating depths, shadows and perspectives.