Rema Ghuloum: Energy Work
Online Exhibition
3342 Verdugo Rd
Los Angeles, CA 90065
Directions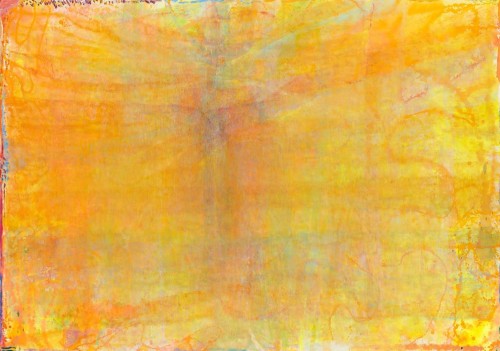 My paintings emerge out of the process of slowly building up the surface with thin stains of paint and sanding in between to preserve the previous layers," Ghuloum writes. "Pattern and shapes come into being through this process. I create a surface that breathes and remembers." Ghuloum's vibrant works are in a continual state of becoming, not pinned down, with a sense of color and space that is always shifting and transforming.
Ghuloum's experiential, intensely physical works combine technical skill, rich emotion, and the willingness to take risks - core values at the heart of art-making. She comments, "I do not really know what the painting will be initially. I am always trying to create contrasts within each work. I ask, 'Is the painting dense, or is it more ethereal or atmospheric? Does space expand and contract?' I think about what my works can do or evoke. They are not static."
In the process of making her works, Ghuloum's responds to the work experientially as it is formed; in some sense, her style combines the opticality of high-modernism and the expression of post-war abstraction. Informing this subtle relation is the contrast in Ghuloum's paintings between the deep space of their centers, and the more shallow one at their edges. "The edges reflect the history of my process," she notes. "At the end of every work session, I apply the remaining paint on my palette loosely around the edge with a palette knife or various brushes as another way to record time."
Rema Ghuloum's work focuses her viewer on the present, while at the same time questioning how that experience is ordered by the past. Her works are generous and robust. They offer us an opportunity to navigate vision with both eye and spirit, to sense both our own presence before her works, and the pictorial one she has crafted.
Rema Ghuloum (b. 1978, North Hollywood, CA) received her BFA in Drawing and Painting from California State University, Long Beach (Long Beach, CA) in 2007 and her MFA from California College of the Arts (San Francisco, CA) in 2010. Ghuloum was included in "The Holographic Principle" at Philip Martin Gallery (Los Angeles, CA) and will be featured in a solo online presentation at the gallery in summer 2023. Recent solo exhibitions include Et al. (San Francisco, CA); Emma Grey HQ (Los Angeles, CA); Edward Cella Gallery (Los Angeles, CA); Five Car Garage (Santa Monica, CA); Sargent's Daughters (New York, NY); Contemporary Art Matters (Columbus, OH); Hawthorn Contemporary (Milwaukee, WI); Jacob's (Los Angeles, CA) and Sonce Alexander Gallery (Los Angeles, CA). Recent and forthcoming two-person and group exhibitions include Philip Martin Gallery (Los Angeles, CA); Forest Lawn Museum (Glendale, CA); Long Beach Museum of Art (Long Beach, CA); The Pit (Los Angeles, CA); Make Room (Los Angeles, CA); La Loma Projects (Los Angeles, CA); Odd Ark LA (Los Angeles, CA); Part 2 Gallery (Oakland, CA); Harris Gallery, University of Laverne (Laverne, CA); Five Car Garage (Santa Monica, CA); Nathalie Karg (New York, NY); Mother Gallery (Beacon, NY); Taymore Grahne Projects (London, UK); Meyer Reigger (Berlin, Germany) and Biak Art (Seoul, Korea). Ghuloum's work is included in the Achenbach Foundation for Graphic Arts Works on Paper Collection at the Legion of Honor Museum (San Francisco, CA). Ghuloum's work has been reviewed in Art Forum, Hyperallergic, CARLA, the Los Angeles Times, Fabrik, and LA Weekly. Ghuloum lives and works in Los Angeles, CA.