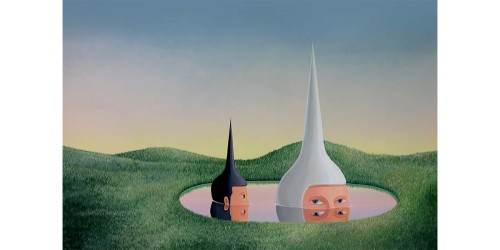 Over the Influence is thrilled to announce Monsters in You, an exhibition of new work from the artist known as Gongkan.
This will mark Gongkan's second solo exhibition with Over the Influence Los Angeles, following Tip of the Iceberg in 2021. The show will feature a new series of paintings in Gongkan's signature pop surrealist style that tackle the idea of "monsters" that exist within all of us, and the ways in which we might learn to coexist with them.
Monsters in You marks a continuation of Gongkan's exploration into themes of transformation, freedom, and self discovery. Black portals painted in the picture plane were previously used to depict people emerging and disappearing as if traveling through space or time. In this exhibition, Gongkan trades black portals for mirrors, the viewers' reflections transposed into the images of monsters — strange and imagined creatures that range from eerie oddlings to ethereal beings to fuzzy pet-like beasts. By refusing to depict these creatures as either wholly angelic or wholly demonic, Gongkan adds a level of dimensionality that allows the viewer to decide if the monsters are friend or foe.
About Gonkan B. 1989, Bangkok, Thailand – Lives and works in Bangkok, Thailand Kantapon Metheekul, known professionally as Gongkan, was born and raised in Bangkok, Thailand. He graduated from the School of Arts at Silpakorn University in Bangkok, and had a successful career in advertising and graphic design afterwards. He moved to New York City for 3 years to study Fine Arts with a focus on painting. During his spare time, he created street art throughout the city and became familiar with the local community. He developed an artistic concept that he called Teleport Art, and it gained notoriety in the New York street art scene for its images of people emerging and disappearing from black portals like they were traveling through multiple dimensions. He found his creative voice in New York. It was there that he witnessed everyday life such as people striving for a better life, gender equality, and overall respect in daily interactions. All this had a great influence on his works. His art incorporates symbols from nature, such as the sky, clouds, and water- items that are fluid and mutable to represent freedom of expression and spirit. Additional symbols that are found in his art are circular shapes reminiscent of black holes, bodies of water, or doorways to other realms. Gongkan works with various materials: sculptures, paintings, street art and video installations.