Camouflages & Devils Tower: Invader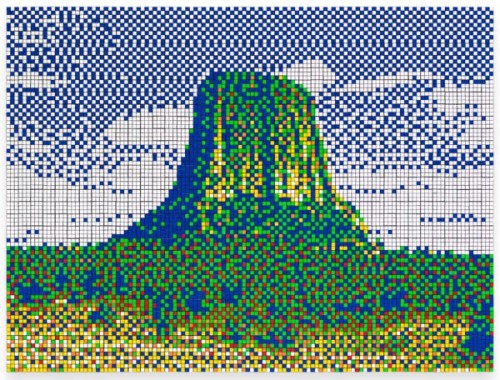 Over the Influence is thrilled to announce Camouflages & Devils Tower, an exhibition of new works from the internationally renowned French artist known as Invader.
Invader (B. 1969) Paris, France
Lives and Works on Earth
Invader is one of the most enigmatic and radical artists of our time. He has been "invading" cities around the world since 1998 by skillfully placing his mosaic pieces in the most incongruous of places. By drawing attention to the increasing role of technology in our daily lives, Invader encourages the public to reflect on the implications of this digital invasion. Invader's creative dexterity knows no boundaries, with the artist having sent his work into outer space as well as having anchored it to the bottom of Cancun Bay. Whether he's embellishing the Hollywood sign, invading the Louvre, designing the most innovative pair of trainers or using the Rubik's Cube as an artistic medium, Invader has left an undeniable mark both on the world's landscapes and on contemporary art.
Invader has been exhibited at MIMA Museum, Brussels, Belgium; Musée en Herbe, Paris, France; HOCA Foundation, Hong Kong; MuseumsQuartier, Vienna, Austria; MOCA, Los Angeles, CA, USA; Museum of Contemporary Art of San Diego, San Diego, CA, USA; Daejeon Museum of Arts, Daejon, South Korea; Musée Ingres et Musée du Louvre, Montauban, France; Borusan Center for Culture and Arts, Istanbul, Turkey; Mjelby Konstgard Museum, Halmstad, Sweden; and the Biennale d'art contemporain de Lyon, France.