RALF KOKKE Wild Roars In Calm Corners
Gallery IV
2700 W Ave 34
Los Angeles, California
Directions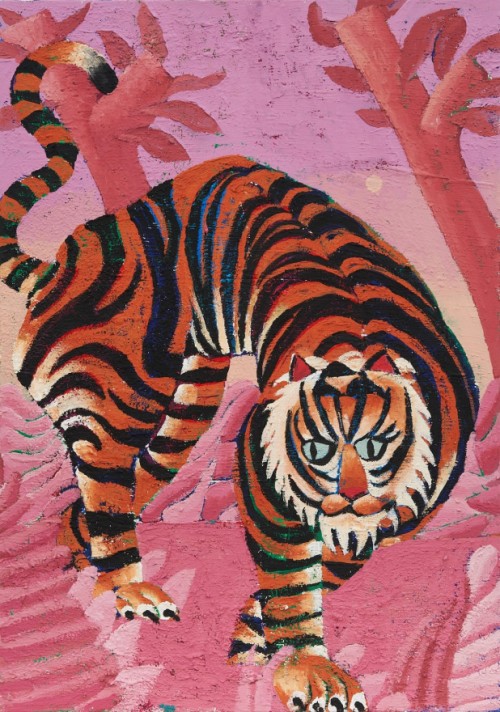 Nino Mier Gallery is delighted to announce Wild Roars in Calm Corners, Ralf Kokke's first solo show in Los Angeles. This exhibition – on view from September 30 - October 28 in Glassell Park – invites viewers to explore Kokke's imaginative world, showcased through a collection of paintings and works on yupo paper.
The exhibition's title, Wild Roars In Calm Corners, evokes life's balance between moments of peace and serenity, and moments of chaos, energy, and disorder. This coexistence of quiet and loud experiences and memories is much like the tone of many of Kokke's works, which feature wild creatures set against idyllic scenes. "This exhibition invites you to explore a world where both calm and excitement are intertwined, reflecting the ups and downs we all encounter and express through art," Kokke explains.
Having grown up in Rotterdam, a bustling port city in the Netherlands, the art world was quite detached from his daily life. Yet, from a young age, art took on a profound significance for him, becoming a refuge, a means of escaping reality, a world in which his dreams and imagination could flourish.
Kokke's inspirations draw from the stories of his childhood, including popular culture fairy tales like Pinocchio and Bambi, as well as ideas of paradise and primordiality. Inspired by Naïve artists like Rousseau, André Bauchant, Horace Pippin, and Grandma Moses, Kokke's work encapsulates nostalgia for a nature-infused paradise. These influences continue to shape his work, as do elements from his dreams and personal life.
In Wild Roars In Calm Corners, Kokke conjures worlds where humans coexist with nature and fantastical creatures, evoking the timeless spirit of Greek Arcadia—a place of pristine natural beauty and harmonious existence. These imaginary realms offer an escape and hope, contrasting the chaos and turmoil of everyday life.
In works like Tiger Tunes, Kokke's idyllic forests evoke a tranquil realm in which predator and prey live in utopian harmony. Just Lion Around features a similar scene depicting the coexistence of prey and predator which, alongside Bird on Hand with Panther on Land, demonstrates Kokke's penchant for bright greens, reds, and pinks. The rich color palette is achieved through layering, starting with primary colors, then adding denser and more vibrant hues. 
Kokke's figures often engage in dynamic dances, striking contorted and elongated poses set against still, geometrical backgrounds that verge on abstraction. The duality of stillness and movement in Kokke's work reflects his interest in experimenting with materials and craftsmanship. The artist's facture is distinguished by blending acrylic colors with unconventional materials such as chalk, wood dust, and flour, binding them with pigments, egg yolk, and other mediums. This process generates a very thick and rigid texture reminiscent of stone casts, imparting an aura like those of ancient frescoes or Renaissance grottoes.
Many of Kokke's subjects draw inspiration from archetypal symbolism. For instance, lions, which are presented in many works included in the show, typically symbolize strength and bravery. But they also hold personal significance for the artist as frequent inhabitants of his dreams, embodying the idea of breaking free from old patterns and embracing change.  Kokke also includes references to his personal life, childhood, and dreams in dialogue with more abstract themes. In Just Lion Around, for instance, a figure in pink leads a lion in all its strength, reminding us of the gentle power of guidance. 
In Kokke's enchanting forest settings, amidst bubbling springs set beneath perpetually dusky or dawn skies, he invites viewers to rediscover the world through the eyes of a child and to be transported to a place where dreams and reality coexist. In a world where the chaos and turmoil of everyday life can obscure our sense of wonder and magic, Ralf Kokke's paintings are oases of re-enchantment.
Ralf Kokke (b. 1989, Rotterdam, Netherlands; lives and works in Dordrecht) holds a BFA in Painting from the Royal Academy of Fine Art, Antwerp, BE. He has had solo exhibitions at Kristin Hjellegjerde Gallery, London, UK; Eva Leibe Gallery, London UK; Hans Alf Gallery, Copenhagen, DK; and at the Mondrian Fund, Rotterdam, NL. He received the Dordrechts Museum Grant, as well as the Mondrian Fund's Young Talent Grant, among others, and is in the collections of the Dordrecht Museum, Dordrecht, NL and the Van Gogh Huis, Zundert, NL.