LOLA GIL Who Are ( You ) Are Who
Gallery III
7327 Santa Monica Blvd
Los Angeles, CA 90046
Directions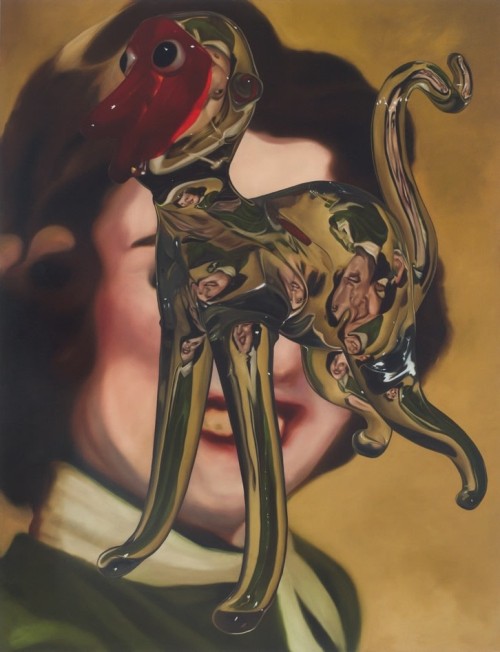 Nino Mier Gallery is pleased to present WHO ARE ( YOU ) ARE WHO, our first solo show with painter Lola Gil. Each painting in the exhibition features blurred figures that are recognizably mid-action, obscured by glass animal figurines. WHO ARE ( YOU ) ARE WHO provokes ethical questions about human connection and the relationship between self and other, and will be on view in Los Angeles from September 23 - October 21, 2023.
Though Gil uses her own experiences to shape her subject matter—interpersonal connection and empathy—she paints in a depersonalized visual mode employing stock imagery as source material. Each of the paintings in WHO ARE ( YOU ) ARE WHO have a clearly defined foreground and background: in the foreground, glass figurines of animals come into focus, and in the background, between one and three figures either laugh and speak with one another, or turn towards the camera in anticipation of their capture. While the figures appear contextless, closely cropped and floating in monochromatic space, their hair and clothing recall midcentury American styles. But beyond that, the characters are relatively unknowable. These figures act as the protagonists of her paintings, highlighting the stranger as a sort of anyone and everyone character. They hover just out of view, never able to lock eyes with the viewer but enabling a deeper recognition of the other.
Gil's destabilizing use of the glass animal visualizes the multifaceted nature of the stranger. In each foreground, Gil depicts a glass figurine with glimmering precision and clarity. Most of the animals are horses, but snakes, donkeys, and elephants also appear in several works. Gil collects such figurines in her own life, either through inheriting them from her grandmother or finding them in antique shops. The background imagery refracts through the many contours of the glass, so that each figure's features are fractioned, stretched, condensed, and repeated throughout the animal's body. Those who appear to be stock characters, then, are revealed to have many faces—a visual reminder that no single identity can be distilled completely, that one can never truly know, and therefore judge, the other.
While Gil's empathetic investigations of the stranger can be challenging, she imbues the work with lightheartedness. The "stars" referred to in each work's title refer to the figurine in the work's foreground, named by the artist in ways that are both jocularly punny (Pleasure To Meet You / Starring Liam Neighhson) and zany (A Day in Her Shoes / Starring Winona Workforce and Biscuits Anderson). The animals are archetypes that act as a magnifying glass for the figures they explore.
"In our current climate," says Gil, "I have felt an overwhelming sense of emotion and interest in the 'stranger'. Through this new body of work, I am driven to dedicate an intimate investigation of the human spirit. The subjects are dependent on me to share their multifaceted components, in a way that highlights each one of us having unique experiences through life separately. The doors we go in and out of over the course of our lives shape us, whether for the good or bad […] The stranger has history. The stranger has suffered, enjoyed, loved, etc. in some capacity. I paint these subjects in two mindsets. First, I offer the viewer perspective of the 'other,' the 'stranger'. The stranger is also you from others' point of view. But I also paint these subjects for me. To offer solace for relationships past, and to let the very damaging ones have forgiveness through the understanding that we are at varying degrees of respect and understanding of the other."
Lola Gil (b. 1975, Riverside, CA, US; lives and works in Philadelphia, PA, US) has recently held solo exhibitions at Aisho Nanzuka, HK; KP Projects, Los Angeles, CA; Roq La Rue Gallery, Seattle, WA; among others. Her group exhibitions include Wasau Museum of Contemporary Art, Wausau, WI; Lohme Gallery, Malmö, SE; Craig Krull Gallery, Santa Monica, CA; Dorothy Circus Gallery, London, UK; and Outré Gallery, Melbourne, AU, among many others.