The Invitation: A Fairytale by Jeanine Brito
1700 S Santa Fe Ave
Upstairs
Los Angeles, CA 90021
Directions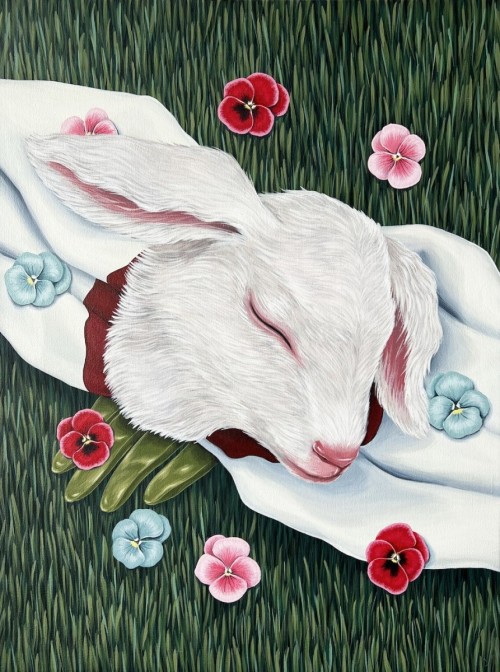 Here, a scene of motherly devotion
And the summons to set our fable in motion

Gentle is the knife she wields so nicely
Whose blade strips sweet flesh so precisely

As though by angels the perfect gloves
—cut from the skin of the lamb she loves

The evening's affairs leave her bereft
Across hills and valleys to flee stage left

O wretched vanity! O grief! O guilt!
Lessons in mourning for the blood that was spilt
The Invitation: A Fairytale by Jeanine Brito, is the artist's first solo exhibition with Nicodim and her first in the United States. Drawing inspiration from Hans Christian Andersen and Grimm's fairy tales, this body of work mines the visual language of these stories to create an original narrative that moves from maternal care, to ruthless ambition, and eventual devastation. Based on the trope of the 'wicked' woman found in many Western folk tales, each of the paintings (whose rhyming titles tell the story itself) double as a stage set where the plot unfolds. 
In Brito's fairy tale, a woman gives birth to a lamb, and shortly after, is invited to a royal ball. Searching for the perfect accessory to her outfit, in a moment of desperation, the protagonist skins her baby lamb to create a stunning pair of leather gloves. While dancing with a handsome suitor, she is overcome with grief and misery and flees the ball. Once home, she proceeds to eat the remains of the skinned lamb. 
Brito utilizes camp archetypes to tell a grotesque story of sinister, blind determination. Examining the gruesome, often abusive language used in many European fables allowed her to explore a more abject tone in these paintings. In particular, Brito looked toward films of stage productions like The Red Shoes (1948), other fairytale adaptations like Donkey Skin (1970) starring Catherine Deneuve, as well as opera and ballet costuming and set design from Giselle and The Magic Flute. For the gloves themselves, Brito explored the costume archives of the V&A Museum and Metropolitan Museum of Art. 
 
The story creates a dramaturgical contrast between the selflessness of motherhood, and unbridled personal ambition. For Brito, this dichotomy is one she thinks about regularly. In contrast to an image of the working mother whose career is sacrificed in the process of child-rearing, Brito presents a dynamic where complicated and opposing desires form the basis of a nuanced, imperfect motherhood. A melodramatic staging of this scenario, the paintings reflect a nightmare that is intentionally unhinged and absurd––a key element of the story is the fact that the protagonist doesn't think twice about skinning the lamb. And her 'child' pays the ultimate price for her aspirational lust.
 Jeanine Brito (b. 1993, Germany) is a painter living and working in Toronto, Canada. Her work explores themes of memory and desire, imagined in a theatrical, surrealist context. Self-taught, her previous experience as a graphic designer informs her approach to colour and composition, where smooth, saturated surfaces meet photographic crops. Recent exhibitions include The Invitation: A Fairytale by Jeanine Brito, Nicodim Upstairs, Los Angeles (forthcoming) (2023, solo); DISEMBODIED, curated by Ben Lee Ritchie Handler, Nicodim, New York (2023); So Softly and Sweetly, La Causa Galeria, Madrid (2022, solo); You Me Me You curated by Rachel Keller, Nicodim, Los Angeles (2022); and New Mythologies II, Huxley Parlour, London (2022).