Joshua Hagler: I Would Not Speak of the Mountain
1700 S Santa Fe Ave
Upstairs
Los Angeles, CA 90021
Directions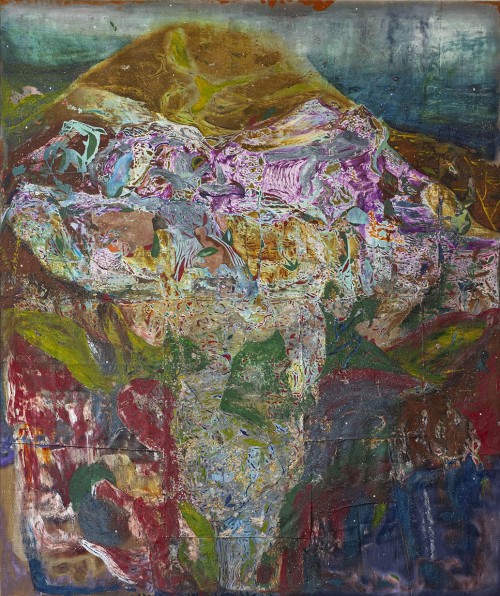 Nihil I / I Would Not Dream of the Mountainrepresents a number of firsts for Joshua Hagler: the first exhibition devoted to his Nihil works, his first solo exhibition with Nicodim, and his first solo show in Los Angeles since 2018. The artist will continue the Nihil project through his next solo exhibition with the gallery in New York in 2024.
On little more than a whim, in May of 2020, two months before my daughter was born, and at the height of Covid, I installed work at the abandoned Cedarvale School just outside Corona, New Mexico. It was the first of several abandoned structures in which I would do so. I simply wanted to know what it would feel like to put work in an empty structure and to find out how much I was capable of doing on my own.

In the three years since, the collection of abandoned New Mexico schools, churches, and post offices where I've installed has begun to seem to me like a single architecture. There is the feeling that this architecture, with its many rooms and hidden treasures, resembles the unconscious self. In roaming the unpopulated regions of New Mexico, it's as if many times and places hover before and behind one another within a single moment or space.

Nowadays, most of the work installed in a certain building is made specifically for it. A painting is made at a particular size, or in a certain way, because of what a wall or alcove allows, what a door or window permits in terms of what might pass in or out of it. There is the sense that not only do I bring the work into a church, for example, but that the painting or object has first come from that space, as if I am returning it. This sense of return, in some way, seems to account for how the work has grown to resemble the space, even as these specific resemblances are most often synchronous and unplanned.

Nihil is the name I've given to having nothing left to say. This might sound, from a certain distance, like loss or failure. In practice, saying nothing is the work's liberation, its best hope for authenticity. Nihil is the name I give to the trick I play on myself that gets me out of the way of the work. Sometimes Nihil refers to my broader contemplative practice, of which painting is just a part. Sometimes it refers to its nine tenets: arbitrary rules for an arbitrary structure, resulting in work specific and accurate unto itself, impossible to replicate.

Always, Nihil reveals something about itself I hadn't anticipated. Its paradoxes and ironies grow ever layered. Sometimes I wonder whether Nihil isn't the accidental means by which it becomes possible for the unconscious to unveil itself, approximating something like dream space, on which absence and memory come to call.
– Joshua Hagler , 2023
Joshua Hagler (b. 1979, Mountain Home AFB, Idaho) is a first-generation graduate with a graphic design degree from The University of Arizona.  A 2018 grant recipient of the Roswell Artist in Residence Program, Hagler has since made New Mexico his permanent home. Currently, he lives with his wife and daughter in the high desert village of Placitas at the foot of the Sandia Mountains.  
In recent years, his practice has been guided by an approach he calls Nihil, a set of nine self-imposed principles that have grown out of solitary excursions throughout the state.  These principles determine all aspects of the work from its imagery and process, to the media and objects comprising it.  Concept and meaning, as such, naturally unfold out of synchronistic experiences occurring over time. 
Recent exhibitions include: I Would Not Speak of the Mountain, Nicodim, Los Angeles (2023, solo, forthcoming); The Descendants, K11 Musea, Hong Kong (2023); MATERNITY LEAVE: NONE OF WOMEN BORN, Nicodim in collaboration with the Green Family Foundation, Dallas (2023);  Joshua Hagler, Devin B. Johnson, Nicola Samorì, Hugo Wilson, Nicodim, Los Angeles (2023); DISEMBODIED, Nicodim, New York (2023); Unmatter, Secci, Milan (2022); The Living Circle Us, Unit, London (2021, solo); Witness or Pretend, Bode Projects, Berlin (2021); Drawing in the Dark, Cris Worley Fine Arts, Dallas (2021, solo); Figure as Form, Hollis Taggart Gallery, New York (2020); Love Letters to the Poorly Regarded, Roswell Museum and Art Center (2018, solo), and The River Lethe, Brand Library and Art Center, Los Angeles (2018, solo).