Immaculate Heart of Margaritaville Curated by Devendra Banhart
1700 S Santa Fe Ave
Upstairs
Los Angeles, CA 90021
Directions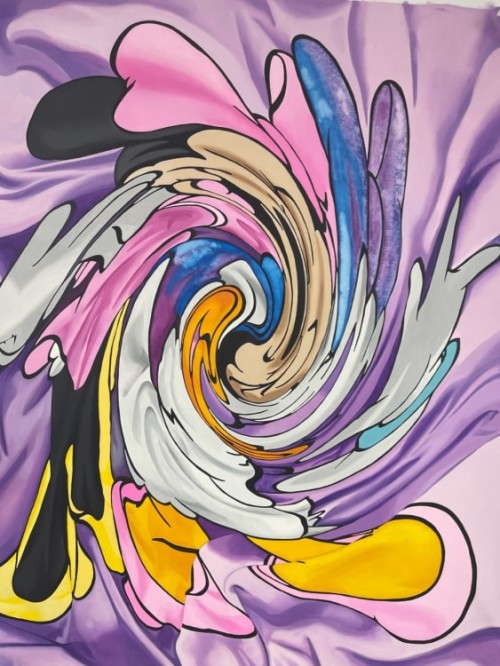 ANOHNI / Ángeles Agrela / Devendra Banhart / Anastasia Bay / Christian Ruiz Berman / Razvan Boar / Ivana de Vivanco / Eliza Douglas / Devra Fox / Liang Fu / Adam Green / Molly Greene / Greg Hartunian / Tania Marmolejo / Keegan McHargue / Ada Roth / Adelisa Selimbašić / Sobe / Andrea Villalon / Brittney Leeanne Williams / Chloe Wise / Curated by Devendra Banhart
A prayer for my four-to-six nuclear families, for my ever-expanding universe of friends and lovers, for consciousnesses that may or may not exist beyond our postmodern El Dorados and Shangri-Las where dead dreams go to die twice:
 
May this sea moss gel cool the fire within in me that burns with unfiltered desire for epiphany in a pornographic desert;
 
May we all find a Six Flags for our unmet oral and spiritual needs;
 
May we all discover a Cartier diamond bracelet in the Bloomin' Onion we snuck into the hot yoga session at the Cheesecake Factory;

May we all find comfort within our own place in Margaritaville—that sacred temple, that archetype for a freedom that exists somewhere between legitimacy and artifice that urges us to leave behind the very sacred temple that is selling us the dream to leave it all behind;
 
May we all attend the vernissage for Immaculate Heart of Margaritaville and bask in the ordinary magic, this orgy of authenticity buried in the most profane of structures.

–Adapted from Out of Body: The Bortz Metzger Memoirs, R. Driblette, editor. Penguin Books Ltd, 2002

Immaculate Heart of Margaritaville is the top floor of the romantic wing of the capitalist nightmare, a fever dream manifested during a midday nap on a bed of ashwagandha-tipped nails with an ecstatic, honest, and truthful international coterie of artists, many of whom have never shown in the United States before.
Devendra Banhart (b. 1980, Houston, Texas) lives and works in Los Angeles. An internationally renowned musician considered a pioneer of the "freak folk" and "New Weird America" movements, Banhart has toured, performed, and collaborated with Vashti Bunyan, Yoko Ono, Os Mutantes, Swans, ANOHNI, Caetano Veloso, and Beck, amongst many others. His musical work has always existed symbiotically alongside his pursuits in the other fine arts. In addition to painting and drawing most of his own album covers (the album artwork for his 2010 album What Will We Be was nominated for a Grammy), he has contributed to Doug Aitken's multimedia Station to Station project. He has performed at MoMA (New York), MoCA (Los Angeles), The Hammer Museum (Los Angeles), LACMA (Los Angeles), and The Broad Museum (Los Angeles). Exhibitions include Voglio proprio vedere, Mazzoli, Modena, Italy (2017); Sphinx Interiors & Other Works, Mazzoli, Modena, Italy (2014, solo); Abstract Rhythms: Paul Klee and Devendra Banhart, SFMoMA, San Francisco (2007–2008); Music is a Better Noise, MoMA PS1, Queens, New York (2007); and Devendra Banhart, Mazzoli, Modena, Italy (2006, solo). His monograph of drawings and paintings I Left My Noodle on Ramen Street (2015, Prestel) features essays by Jeffrey Deitch and Beck. The Grief I Have Caused You, his 2021 solo exhibition at Nicodim Upstairs, Los Angeles, was a critical and commercial success.