Chantal Khoury: I TIE THEM LOOSELY
1700 S Santa Fe Ave
Annex
Los Angeles, CA 90021
Directions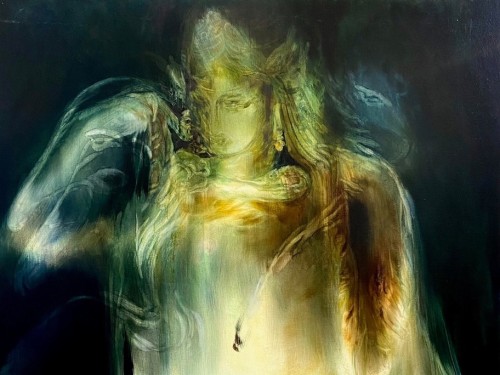 Chantal Khoury: I Tie Them Loosely, is the artist's first solo exhibition with Nicodim and her solo debut in the United States. A second-generation Canadian artist of Lebanese descent, Khoury's practice looks at the ways in which we imbue objects from our everyday lives with deep meanings, complicated histories, and our own cultural identities. While not necessarily about memory, the artist does begin at a very personal place, inspired by objects connected to her own family's immigration stories. Khoury is interested in transnational histories of abstract painting, outside of traditional art historical structures and the Western academic canon. This research has informed a new type of subjectivity in her approach to the medium. 
Raised between Roman Catholic and Greek Orthodox communities, Khoury recognizes that the religious figurines, antique vessels, fabrics, finger bowls, candlesticks, and various other tchotchkes that surrounded her in the homes of her grandparents and extended family, represent a connection to, and simultaneous withdrawal from, their home countries. The traces of recognizable subjects found in Khoury's work, such as the Virgin Mary in MaryMary (2023), or perhaps a Greco-Roman figurine in She rises from the sea, holding her locks (2023) point to that connection-withdrawal, materially and metaphorically. By referencing items that exist primarily in domestic spaces, Khoury cites a type of intimacy tied specifically to the home. The meaning applied to these objects is constantly shifting, reflecting the intersecting nature of one's personal heritage. Though she begins with a singular reference, the end result highlights a varied understanding of these broader cultural landscapes and migration stories. 
Khoury utilizes a specific approach to abstraction—experimenting with the building up, then breaking down of oil paints and mineral spirits—to conjure memories that are deeply personal, while incorporating forms that feel universal. This method of applying and removing paint articulates a process of transience and transformation, presence and absence. Further, inspired by poet Etal Adnan and her approach to repetition, Khoury  readily repeats and abstracts familiar forms, revealing new metaphysical and structural entry points in each painting. Through this process, the artist iterates on the histories of migration, and the deep connections we forge to domestic objects that come to represent our identities. By repeating these signifiers, Khoury contemplates the cultural isolation that can be caused through centuries of migration, war, and ruptures in family histories.
Chantal Khoury (b. 1986, the unceded territory of the Wolastoqiyik and Mi'kmaq First Nations-New Brunswick, Canada) is of Lebanese descent and is based between Tkaronto/Toronto and Tiohtià:ke/Mooniyang/Montreal. She received her MFA from the University of Guelph (2021) and her BFA with Distinction from Concordia University (2012). Khoury was awarded several grants and honors, including the Canada Council for the Arts, the Ontario Arts Council, the Canadian Federation of University Women, and a spot in the '22/'23 RBC Emerging Artists Network at the Power Plant Contemporary Gallery. Notable exhibitions include: I TIE THEM LOOSELY, Nicodim Annex, Los Angeles (forthcoming) (2023, solo); I had the same thought, TAP Art Space, Montreal (2023, two person exhibition); Holding Echoes, Michael Gibson Gallery, London (2022, solo); Cloth and Feather, Birch Contemporary, Toronto (2021, solo); Other People's Gardens, Beaverbrook Art Gallery, Fredericton (2020); Be/Longing, Gallery on Queen, New Brunswick (2018); Unstilled Egoes, University of New Brunswick (2014, solo). Permanent Collections include the Royal Bank of Canada, The Art Gallery of Guelph, and the University of New Brunswick.