It's What You Don't See: Audrey Lyall
7920 Santa Monica Blvd
West Hollywood, CA 90046
Directions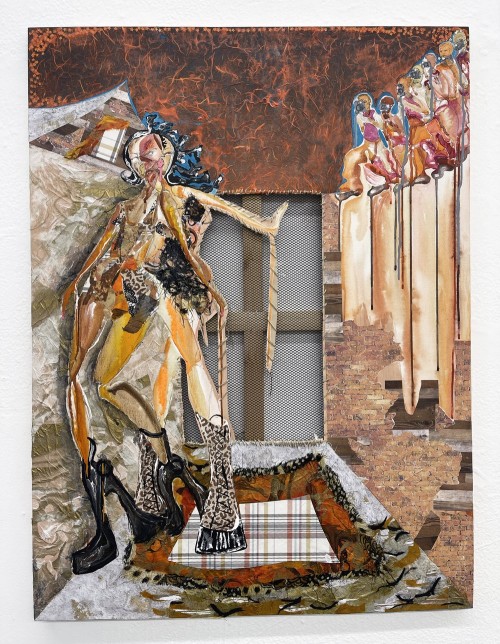 NIA is pleased to present; There's Only Two Types of People In The World: The Ones That Entertain And The Ones That Observe, the debut exhibition of multimedia artist Audrey Lyall. For Lyall's inaugural West Coast exhibition, she deconstructs celebrity culture and reimagines the contemporary notions of fame through an Afro-futurist lens using her signature palette and singular style. Join New Image Art Gallery this Saturday, May 6th, 2023, for the opening reception for the opening reception from 6:00 - 9:00 PM.
Undoubtedly, the City of Angels is the site of conception of fame. As the mecca of consumerism and popular culture, the city has been a pervasive force in the attention economy and has impacted the hegemony's definition of success, beauty, and glamour for decades. At the peak of celebrity culture in the early 2000s, glossy tabloids and trashy publications with a Y2K aesthetic were inescapable. While the internet and social media were in its' infancy, these powerful objects impacted how society understood race, gender, class, and identity. This media manufactured desires of fashion, appearance, and drama. It glorified whiteness and vilified blackness, a common trope that is meeting its maker today, Audrey Lyall, who, for her solo exhibition, intends to flip the script, or perhaps more accurately obliterate the script and create a vision of her own. The CA native and Brooklyn-based artist renders her highly stylized black figures in compositions kin to the 00s magazines. She reveals slivers of tabloid clippings, then layers them with robust movement, colorful narratives, and abstract textures. Her use of fabric and diversely rich mediums are consistently challenged by her warm palette of mystical oranges, romantic magentas, and effervescent metallics, creating a synchronicity of opulence for her black femme figures to thrive in. She constructs her own lore, where style is a symbol of freedom. This reconstruction of celeb mythology is one of grandeur semiotics that transcends time yet reminds viewers of Hollywood's history.
In this new body of tactile work, Lyall pays homage to the moniker of Britney Spear's lyrics of her hit single Circus' as the title of her exhibition. The anthem released in 2008 rings true to this day, especially as the media landscape and the notion of fame have transformed through technology. In a time when legacy media has disintegrated, and most people on earth have access to the internet, the state of human consciousness and the idea of virality has changed. Identity is now formulated on social media, where pictures have become personalities, leaving individuals to participate in performing who they desire to be. As Spears foreshadowing lyrics haunts our social media-entrenched lives today, Lyall ponders these everlasting words within her painted collage works, asking what the impact of this constant performing and observing is. Lyall ushers in a period of sartorial liberation by weaving together elements of splendor of the past and present.
There is glamour, and then there is Audrey Lyall.