Hannah Wilke: Flowers 1973-1991
9953 S Santa Monica Blvd
Beverly Hills, CA 90212
Directions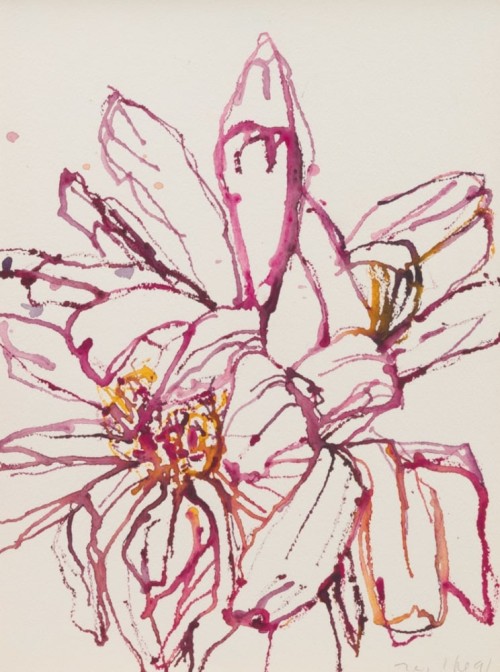 Marc Selwyn Fine Art is pleased to present Flowers 1973-1991, an exhibition of drawings by the late American artist Hannah Wilke (1940– 1993). This exhibition will focus on the flower image and includes works in watercolor and sepia ink on paper. It will also include a grouping of three of Wilke's abstract vaginal forms in ceramic from the 1970's, highlighting the relationship between her works on paper and her threedimensional sculpture. A pioneering figure in feminist art, Wilke explored issues of beauty, gender, and Western cultural convention with a diverse approach that included photography, performance, video, sculpture, and drawing. The first woman of her generation to make vaginal art, Wilke asserted ownership over her own body and was a key figure in the feminist art movement of the 1960's and 70's.
Wilke's multi-disciplinary practice melded Post-Minimalism, second wave feminism and Abstract Expressionism, making her one of the most influential yet under recognized artists of the late 20th century. Wilke's works on paper are often in dialogue with her sculpture. Rarely exhibited before her death in 1993, drawings were an integral part of her practice beginning in the 1950's and early 1960's. While Wilke's undulating lines often generate highly abstracted compositions that relate to her sculpture, this exhibition will focus on a series of recognizable floral images which are closely linked to her threedimensional organic forms. Wilke's sketches of flowers embody a delicate and ambiguous beauty and come from the same energy exemplified in her performances. As Nancy Princenthal wrote in the artist's monograph (Hannah Wilke, 2010, Prestel) "Her observations were acute, bringing to life every particularity of texture and form, blooming health and decay without sacrifice to the delicacy for which flowers are treasured." Wilke continued to produce flower drawings until her death, with some of the final examples done on hospital pillowcases.
Hannah Wilke (b. New York, NY, 1940; d. Houston, TX, 1993) trained at Stella Elkins Tyler School of Fine Art, Temple University, Philadelphia. Key solo museum exhibitions during her life included Hannah Wilke: Scarification Photographs and Videotapes, Fine Arts Gallery, University of California, Irvine, (1976); and Hannah Wilke: A Retrospective, University of Missouri (1989). Recent solo presentations of her work include Hannah Wilke: Art for Life's Sake, Pulitzer Arts Foundation (2022), Hannah Wilke: Gestures, Neuberger Museum of Art, New York (2008) and a solo gallery at the Museum of Modern Art, New York (2011). Wilke has also been included in significant group exhibitions, including: Eva Hesse and Hannah Wilke: Erotic Abstraction, Acquavella Galleries, New York (2021), Performing for the Camera, Tate Modern, London (2016); Human Nature, LACMA, Los Angeles, CA (2012); Naked Before the Camera, Metropolitan Museum of Art, New York (2012); The Original Copy: Photography of Sculpture, 1839 to Today, MoMA, New York, NY (2010); elles@centrepompidou, Centre Pompidou, Paris, (2009-10): WACK!, Museum of Contemporary Art, Los Angeles (2007); and Sexual Politics, Hammer Museum, Los Angeles, 1996. Her work is featured in major museum and foundation collections including Tate Modern, London; Centre Pompidou, Paris; Museum of Modern Art, New York; Whitney Museum of American Art, New York; Solomon R. Guggenheim Museum, New York; LA County Museum of Art, Los Angeles; Museum of Contemporary Art, Los Angeles, Princeton University Art Museum; and Coleccion Jumex, Mexico City.