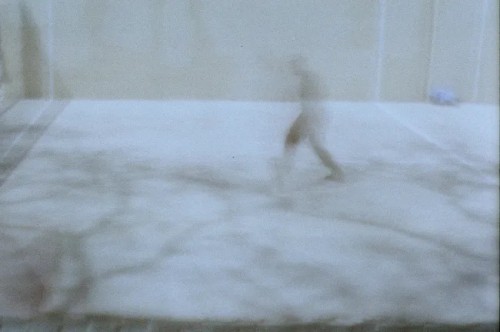 Partway through the final section of György Lukács' essay on "Reification and the Consciousness of the Proletariat," in the course of a discussion on how the antinomies of modern life (the separation of subject and object, freedom and necessity, individual and society, form and content) are reified as "facts" and taken for granted, the Hungarian Marxist makes a somewhat oblique reference to Ernst Bloch and his theory of landscape, which notes that "landscape only starts to become landscape at a definite (though of course variable) distance from the observer and that only as an observer set apart in space can [the artist] relate to nature in terms of landscape at all." Bloch wanted to dispel the false immediacy of a seemingly natural concept such as 'landscape' by showing how, rather than being given, it originates in the already mediated process of vision (i.e., confronting nature "as an observer set apart in space"). For Lukács, the importance of this illustration lay in the recognition that despite their opposition—or rather, because of it—subject and object are intertwined and interconnected, and that articulating the distance between them (through an image like landscape) is also a way of measuring their correspondence and closeness. Subject and object are moments of the same reality set apart in space. Each is present in-and-for the other: the subject for the object, the object for the subject. Their confrontation represents existence as such: consciousness and the unconscious, shadow and light.
The artworks that make up Things Seen—paintings and photographs by David Abbott, Taylor Ervin, Will Gabaldón, Rema Ghuloum, Errol Sawyer, Peter Shear, and Yoab Vera—turn the simple act of looking into an allegory for the making of art and the living of life. What unites this group of artists is a desire to avoid constructing images and instead to remain open to their unexpected arrival.
Things Seen is a show about looking and looking at looking.
David Abbott (b. 1981) lives and works in Bristol, UK. He works primarily from personal experience, muddling visions of the present with his own hazy recollections in order to explore ideas of memory, history, loss and home using landscape as his medium. Abbott is drawn to the cyclical flux of the natural world as an allegory for our own mutable lives. His landscapes at times assert themselves confidently, at others appear to be disappearing before our eyes. Ina time of massive pressure on the natural world his landscapes seem to submit both to inside and outside forces. Abbott's work awakens real and imagined pasts, whilst drawing inspiration from time spent outside with birds, woods and fields that echo with human and wild history, old songs, stories, lives lived and lost.These are deep, ever-change landscapes that flicker between recognition and unknowing – composite visions of place, memory and myth.
Taylor Ervin (b. 1988) is a photographer and filmmaker who was born and raised in rural Ohio. He is a graduate of Northwestern University's Medill School of Journalism. He currently lives and works in New York City and is the co-founder of The Yearbook Committee, a film production studio. He is in the finishing stages of a forthcoming documentary film about the avant-garde and the state of contemporary art.
Will Gabaldón (b. 1978 Belen, NM) received his B.F.A. in painting from the University of New Mexico and his M.F.A. from the University of Pennsylvania.Prior to moving to Chicago, he lived and worked in Brooklyn. While living in New York City, he was a painting assistant for Jeff Koons, founding member of the artist run exhibition spaceTSA Gallery and was actively exhibiting work in many group exhibitions in New York. He has held solo exhibitions at Various Small Fires, Los Angeles and Seoul; TSA Gallery, Brooklyn,New York; and Harwood Art Center, Albuquerque, New Mexico. Recent group exhibitions include Venus Over Manhattan, New York; Ackerman Clarke at NADA Miami, Florida; SanitaryTortilla Factory, Albuquerque, New Mexico; He currently lives and paints in Chicago, Illinois with his wife and two daughters.
Rema Ghuloum (b. 1978) lives and works in Los Angeles, CA. She received her BFA in Drawing and Painting from California State University, Long Beach in 2007 and her MFA from California College of the Arts in San Francisco in 2010. Rema has exhibited nationally and internationally and has been the recipient of multiple grants including the Pollock-Krasner Foundation Grant, the Joan Mitchell Foundation Grant, Davyd Whaley Foundation Artist- Teacher Grant, and the Esalen Pacifica Prize. Rema's work has been reviewed in Artforum, Hyperallergic, CARLA, the Los Angeles Times, Fabrik, among others. Her work is included in the Achenbach Foundation for Graphic Arts Works on Paper Collection at the Legion of Honor Museum, San Francisco.
Errol Sawyer (b. 1943, Florida; d. 2020, Amsterdam, NE) was the son of African-American playwright Robert Earl Sawyer (1923-1994). Errol Sawyer lived and worked inAmsterdam, Holland, until his death. He grew up in NewYork City, Harlem and the Bronx, studied history and political science at NYU, but found his vocation as a photographer while traveling in Colombia, Ecuador, and Peru in 1968. Sawyer bought his first camera in 1966 and became a professional photographer in 1969. Living and working in Paris and London in the early 1970s, he received commissions for Elle, Dépêche Mode, Votre Beauté, Marie France, Publicis and French Vogue. In 1978 he returned to NewYork and worked for American Vogue, New York Magazine, and many other magazines. After 1984 Errol Sawyer devoted his energy toward the realization of special project assignments in the commercial arena. However, most of his time was concentrated in fine art photography. Sawyer was also a guest professor of photography at the Technical University Delft, Holland, from 2006 until the time of his death. Sawyer held exhibitions at the 4th Street Gallery (NewYork, USA), the Royal Photographic Society (Bath, England), La Musée de la Photographie (Bièvre,France), Foto Huset Gallery (Götenburg, Sweden), No Name Gallery (Basel, Switzerland), La ChambreClaire Gallery (Paris, France), and the Royal Gallery (Amsterdam, Holland). His work has beenpurchased by La Bibliothèque Nationale (Paris, France), La Musée de la Photographie (Bièvre, France),Schomburg Library of Black Culture (Harlem, NewYork), the Museum of Fine Arts (Houston,Texas),and the Tate Modern (London, United Kingdom). He received the Mondriaan Fonds Grant in 2018.
While unified in simplicity of delivery, Peter Shear's (b. 1980, Beverly Farms, MA) paintings range widely across imagery and manner of execution. The result is a body of work which Shear, borrowing from the languages of abstraction, has evolved into a shorthand vocabulary at once personal and familiar, slangy and poetic. In the words of critic John Yau: "Early on, I thought of Shear as a self-taught painter who is single-mindedly working his way through the history of abstract painting, from the gestural to the geometric, and from thick, luscious strokes to dry markers and thinned-down surfaces. What is remarkable about this undertaking is that I never feel that Shear is derivative: each painting has something going for it. They are the work of an artist who can make them where he lives, which is to say he does not seem to need a huge studio, assistants, or a fabricator standing by. He has rejected grandiosity and that false equivalence between masculinity and post-easel painting. I am not even sure he needs an easel. Shear's fiercely modest paintings are mysterious and refreshing. They are beautiful manifestations of the meeting of eye, hand, memory, and imagination."
Yoab Vera (b. 1985, Mexico) graduated from Hunters College with a degree in Art and Art History concentration in Modern and Contemporary Latin American Art in 2013. He subsequently graduated with an MFA in Fine Arts from UCLA in Los Angeles in 2021. Vera's work has been shown at LaMontague Gallery in Boston, MA; CB32, Milan; Salón Acme with Arróniz Gallery, Mexico City; New Wight Gallery at UCLA; Taller Transversal, Mexico City; SK Art and Johnny Utah Project, New York, NY; and Arróniz Gallery, Mexico City.