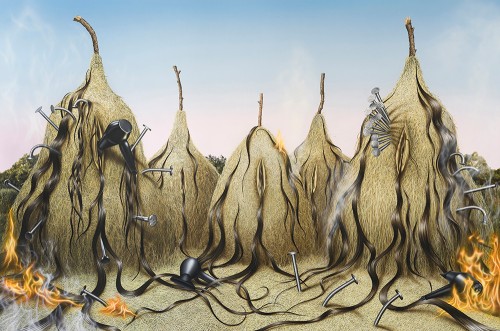 In Swamps and Ashes, Sun Woo presents a body of works that address bodily sensations that often become lost in virtual environments. As much of our activities and "spatial" engagements increasingly shift into the digital sphere, we are prone to experience space through the screen of our devices as we sit safely inside our rooms. Relying on images, videos, and other online resources, we are less impelled to brush our skin against our surroundings.
In her new paintings, Sun Woo reflects on the decrement of tactile, sensory experiences in today's society, as they become increasingly mediated by technology. From a damp carpet drenched in heavy rainfall to a scorched room engulfed in flames, she incorporates elements that suggest specific physical conditions such as wet texture and thick heat, utilizing them as visual cues to trigger bodily senses that are stimulated only by physical contact. While the work Brittle Landscape invokes the crispiness of a dry farmland where the hay strands seem liable to crumble upon touch, Dawn in the Grove invites the viewers to imagine a hot metal surface pressed against the body, flattening it out. 
By bringing outdoor elements like heavy rain and sprinklers into indoor settings and vice versa, the works further provide environments that oscillate between interiority and exteriority—reflecting how technology changes our sense of space, breaking down and complicating the division. Like watching the rain fall from the window of our room, this juxtaposition echoes the way in which we experience the outside world through the lens of a monitor. In this process, Sun Woo weaves personal narratives and memories into the compositions, as she makes use of images of her own studio (in Long Shower and The Cleanse) and the view from her childhood apartment (in Room of Haze). Particularly in Room of Haze, she relies on her body's memory to recall the damp atmosphere of her childhood living room, where her mother used to hang piles of laundry, collected from the balcony during the rainy summer reasons of Seoul. 
The ways in which the bodies are depicted in her paintings—fractured, vulnerable, and transformative—reflects Sun Woo's prolonged interest in exploring the state of the human body in contemporary society where technology alters its functions and forms. Corporal elements like a bloated sponge entangled with hair strands and sheets of skin hung on a drying rack depict how today's body feels as it absorbs and reacts to its surroundings, whether burdened by an excessive intake or contesting a lack. They also reveal her interest in thinking about the body as a boundary, through which sensations become exteriorized. Through this interplay of the body, space, and tactility, the show invites the viewers to imagine moments of intimate, unmediated physical contact—what it might feel like to sink into a viscous swamp as the mud presses on their flesh, or burn down slowly to the ground, leaving a pile of ashes behind.
Sun Woo (b. 1994, Seoul, South Korea) was raised in Toronto, Canada and now lives and works in Seoul, South Korea. She received her BA in Visual Art from Columbia University in the City of New York in 2017. Her ecent solo shows include 'Invisible Sensations', Carl Kostyál, London, 'You Have a New Memory', Woaw Gallery, Hong Kong (2021) and 'Wishing Well', FAS (Foundwill Art Society), Seoul (2020). Sun Woo's work has been shown in numerous group exhibitions, most recently in 'Myths of Our Time, Thaddeus Ropac', Seoul, 'Memory of A Rib', N/A Gallery, Seoul, 'The Second Sex', Carl Kostyál at the Armory Show, New York (2021); 'Women in Paris', Gallery Hussenot, Paris (2021); 'Halfway Through', Fragment Gallery, Moscow (2021); 'Superior Mirage', Cylinder, Seoul (2021); 'untact', P21, Seoul (2020); 'Home Alone', ATM Gallery, New York (2020); and 'EDEN', Harlesden High Street, London (2020), amongst others. This is her first solo exhibition with Make Room, Los Angeles.