Raymond Jonson: Medium and Message
9002 Melrose Avenue
West Hollywood, CA 90069
Directions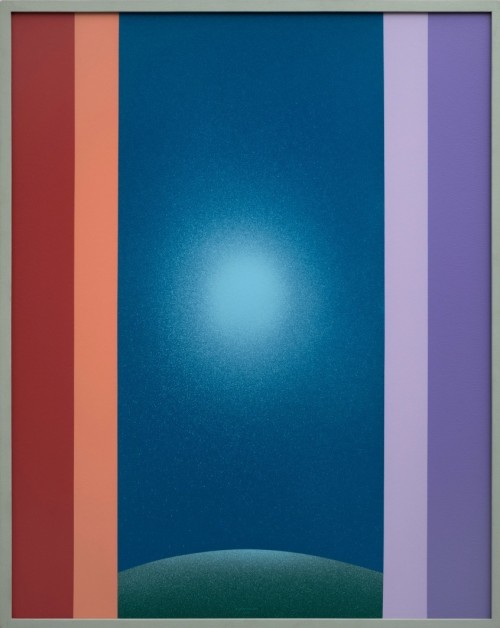 Louis Stern Fine Arts is pleased to present Raymond Jonson: Medium and Message in association with Addison Rowe Gallery. Beginning in the late 1930s, New Mexico-based Modernist painter Raymond Jonson abandoned highly abstracted figures, landscapes, and architectural forms for purely nonobjective explorations of color and mood. In removing all references to the physical world, these works – "absolute" paintings, as Jonson preferred to designate them – transcend political, economic, or social concerns, providing a direct conduit to the artist's spirit. This transition coincided with his co-founding of the Transcendental Painting Group, a coterie of artists who sought to create non-representational artwork as an instrument for understanding the self and communicating spiritual concerns.
Inspired by the Bauhaus artists, Jonson adopted innovative airbrush techniques beginning in 1938, which allowed for a greater range of subtle effects and an immediacy in the act of painting. Unencumbered by the intermediary mechanics of a brush, Jonson could apply paint quickly and seamlessly in a manner that eliminated all traces of his hand in the making. The purity of color and form possible with this approach reduces sensations associated with objective experience, enabling a deeper and more refined transmission of the artist's spiritual awareness and insight.
Jonson began using newly available Liquitex acrylic polymer paints in 1957, which could be readily applied with an airbrush, dried quickly, and offered a depth and intensity of color effects not achievable in his earlier watercolor and tempera works. By 1961, he was working exclusively in this medium. Late works from Jonson's acrylic Polymer series, on view in the exhibition, feature bold color contrasts between vividly saturated geometric forms mingled with vaporous rays and orbs. The dimensionality and dynamism of these invented environments suggest a monumental scale which imbues the paintings with cosmic grandeur, reflective of the boundless worlds within the human spirit.
Works by Raymond Jonson have been exhibited widely in solo and group shows across the United States. Jonson taught at the University of New Mexico for 20 years and was Director of the Jonson Gallery, a studio, residence, and exhibition space that is now part of the UNM Art Museum. Over 600 paintings by Jonson are housed in the museum's Jonson Gallery Collection. Jonson's work is included in numerous public art collections nationwide, including the Los Angeles County Museum of Art, the National Gallery of Art, the Phillips Collection, the San Francisco Museum of Modern Art, and the Smithsonian American Art Museum.