Sarah Charlesworth
7351 Santa Monica Blvd
Los Angeles, CA 90046
Directions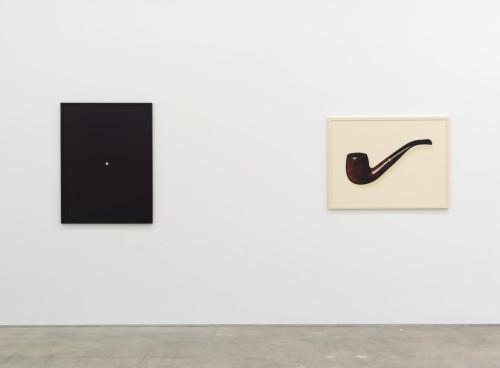 Karma presents Neverland, an exhibition of the eponymous 2002 series by photo-based artist Sarah Charlesworth, on view from May 6 to July 7, 2023, at 7351 Santa Monica Boulevard, Los Angeles. This marks the first time this series will be shown in its entirety since it was initially mounted in 2002. 
The Neverland series represents a turning point within Charlesworth's practice. Following a decades-long engagement in process-based work, which resulted in a series of torn and cut-out photographs collaged against rich color fields, she achieved technical and compositional mastery. For Neverland, Charlesworth eschewed collage, instead working directly within the photographic medium and, for the first time in her practice, digitally manipulating her images. To create this series, she laid objects before a backdrop and photographed them, resulting in precise, impactful arrangements. 
With this body of work, Charlesworth advanced her effort to confound the boundaries between symbol and image. The artist abstracted everyday objects, re-situating them in resonant yet unsettling new contexts; single items and sparse arrangements float against saturated, monochromatic backgrounds. With Pipe, Charlesworth references René Magritte's masterpiece of Surrealism, The Treachery of Images (1929). The vivid still life Fruit Colored Fruit alludes to Dutch vanitas works of the same genre. In addition to these fluid arrangements of art historical touchstones, Charlesworth also invokes the crisp lines and floating arrangements of advertising imagery. In other works, the artist pairs religious iconography, such as Buddhism's lotus flower, with mythic figures, such as the Greek goddess of Victory, Nike. Teapot and Ship feature references to fairy tales, such as the oil lamp from Aladdin and Captain Hook's vessel in Peter Pan, respectively. Charlesworth weaves in objects from her personal life, like a lamp from her daughter's bedroom. In these dreamlike hybrids, familiar objects are remade through symbolic associations and dissension. In her exploration of cultural and spiritual signifiers and their suspension within uncanny, single-color environments, Neverland builds directly off of Charlesworth's iconic five part series of collaged works, Objects of Desire (1983-1989). Through her assiduous compositions and treatment of color, the artist reveals the enigmatic double lives of conventional entities, picture and image. 
Sarah Charlesworth (b.1947–d. 2013) was associated with the Pictures Generation, an instructor at the Rhode Island School of Design and Princeton University, and a co-founder of The Fox and BOMB magazine. Her work has been the subject of several solo exhibitions, including the major survey Sarah Charlesworth: Doubleworld at the New Museum, New York (2015), which traveled to the Los Angeles County Museum of Art (2017). Charlesworth's work is held in the public collections of the Metropolitan Museum of Art, New York; the Los Angeles County Museum of Art; the Museum of Fine Art, Houston; and the Centre Pompidou, Paris, among many others.