Reggie Burrows Hodges
7351 Santa Monica Blvd
Los Angeles, CA 90046
Directions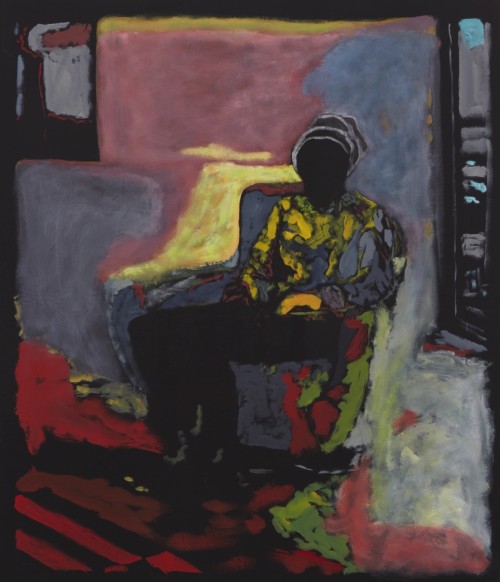 Reggie Burrows Hodges does not paint transcriptions of his past, but, more often than not, the big and subtle and far away but close feelings that memory can engender. Indeed, one could say the works displayed in The Reckoning are fragments of memory that are writ large in the artist's imagination. And it's there, in Hodges's fecund imagination, that these paintings had their first home, a universe where they lived and breathed and grew, nurtured by memory's soil, and its various components: love, passion, truth, and regret. — Hilton Als, 2023
Karma presents The Reckoning, a series of new paintings by Los Angeles–born artist Reggie Burrows Hodges, from May 6 to July 7, 2023. This marks the artist's first solo exhibition in Los Angeles. 
The Reckoning takes reflection as its primary motif: a handheld mirror, the glimmer of a sliding door, a pool of water, a figure bowed in contemplation. The series, which first debuted in Get Lifted!, an exhibition at Karma organized by Hilton Als, has been continuously developed over the past three years. Rendered in acrylic and pastel, Hodges's succinct vocabulary of space, rhythm, and light confounds the boundaries between the corporeal and the spiritual.
In The Reckoning, reflective surfaces are inverted, cropped, distorted, or fleeting. Hodges's pared-down, impressionistic gestures in Vera Rose (2023) carve out the silhouette of a woman seated before a full-length mirror. Inside the uncanny world of the mirror, her smaller double faces away from her real-life counterpart. In Slumber Aura (2022), soft, pastel-colored brushstrokes depicting a domestic space are juxtaposed with a dense, obscured figure, her hands clasped as if in prayer. The subject's reflection in her vanity mirror hovers over the composition. Inner Impulse (2023) depicts the silhouette of a woman in contemplation, submerged in inky blackness. One hand cups her chin, while the other grasps a small mirror, articulated by a burst of gray. A second mirror, affixed to the wall, creates a labyrinth of reflections, none of which offer legibility to the viewer. Throughout the exhibition, mirrored surfaces multiply, operating as potent sites of transportation and slippery disappearance. 
Hodges likens his compositions to music: his paintings are movements of whole and half steps, frameworks for the repetition and advancement of motif and gesture. As silence is integral to sound in the creation of rhythm and harmony, crucial to Hodges's visual language is negative space, which in his works takes form in stark blacks rising into the picture plane. Taken as a whole, The Reckoning follows this resonant structure: the series begins with subjects alone with their reflections and progresses into dynamic scenes wherein multivalent reflections populate the composition. In Alfred's Gift (2023), three figures meet at the threshold of a sliding door. The glass, at once transparent and reflective, obscures distinctions between inside and outside and self and likeness. This moment, charged and imminent, recalls a refracted memory: shifting and changing with time, dispersed through multiple perspectives. 
Reggie Burrows Hodges (b. 1965, Compton, CA) is a painter whose works explore storytelling and visual metaphor. Hodges' works uncover universal subjects such as identity, community, truth, and memory, and often draw inspiration from his childhood in Compton. Starting from a black ground, he develops the scene around his figures with painterly, foggy brushwork, playing with how perception is affected when the descriptive focus is placed not on human agents but on their surroundings. Figures materialize in recessive space, stripped of physical identifiers. Bodies are described by their painted context, highlighting Hodges' embrace of tenuous ambiguities and his close observation of the relationship between humans and their surroundings. Their quiet haziness, developed with the soft touch of Hodges' hand, probes the imprecision of memory and examines the possibility that we are all products of our environment. Hodges studied theatre and film at the University of Kansas.
His work is held in the public collections of the Metropolitan Museum of Art, New York, New York; Whitney Museum of American Art, New York, New York; Art Institute of Chicago, Chicago, Illinois; Museum of Fine Arts, Boston, Massachusetts; Hammer Museum, Los Angeles, California; Los Angeles County Museum of Art, Los Angeles, California; Museum of Contemporary Art, Los Angeles, California; The Crystal Bridges Museum of American Art, Bentonville, Arkansas; Nasher Museum of Art at Duke University, Durham, North Carolina; Rose Art Museum at Brandeis University, Waltham, Massachusetts; Stedelijk Museum, Amsterdam, The Netherlands; Dallas Museum of Art, Dallas, Texas; Blanton Museum of Art, Austin, Texas; Portland Museum of Art, Portland, Maine; Art Gallery of New South Wales, Sydney, Australia; Louis Vuitton Foundation, Paris, France; and the Colby College Museum of Art, Waterville, Maine, among others.