Sonya Sombreuil: Turn Magic Wheel
Nov. 3, 2023 – Jan. 13, 2024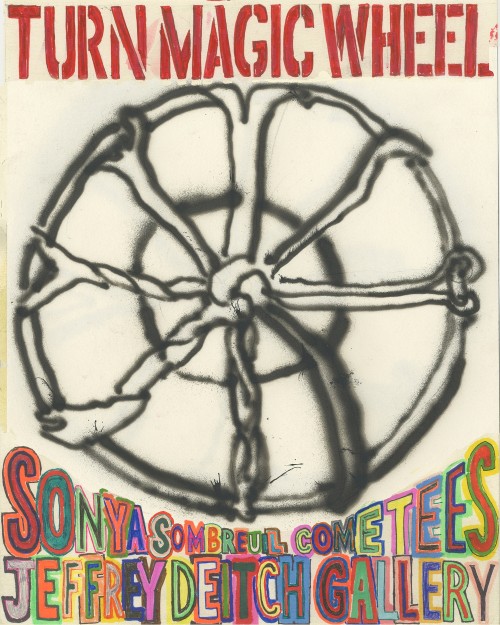 Jeffrey Deitch has invited artist-designer Sonya Sombreuil to bring the spirt of her studio and her curatorial project Dream Child into the gallery for upcoming exhibition. Sonya's approach to art encompasses her community of artist, musician and designer friends. She is dedicated to making her art accessible and connecting with a broad audience, extending her painting practice onto clothing, record covers, flyers and beyond.
Sonya recently wrote an artist statement which brilliantly articulates her unique approach to art and her dedication to her creative community. Rather than a conventional press release, we are attaching Sonya's artist statement:
My artistic practice is manifold and includes a painting practice, a t-shirt project called Come Tees, an ongoing curatorial project called Dream Child in L.A.'s Chinatown and a class I teach in California correctional facilities called "Visual Story-telling" as well as frequent contributions of flyers and posters for events. While all these projects originate in my studio practice, they are all community-driven and speak to my desire to function both within and without the traditional art world. I am interested in creating a parallel or liminal world for my practice that can function in both gallery spaces, fashion spaces and in service of others.
As an artist who was always in proximity to music, underground music in particular, I was always attracted to the way music is disseminated: both as a collective experience as well through ephemera and merchandise and the potential for this ephemera to signal an entire ethic, politic or subworld. I have always been interested in making things that have a direct relationship and relevance to a community of my peers. My t-shirt project Come Tees has come out of this desire for communion, to have a project in which the community acts as a vehicle, even a medium for art, in the same way underground music promulgates a tangible social world.
Through screen-printing, I developed a method for breaking down and reproducing my paintings in a way that made them accessible, relevant and collectible by my peers. I consider clothing to be a form of ready-made, whose parameters include the armature of the body, a living structure for the painting. The shirts are printed on the front, the back, the sleeves and sometimes shoulder prints or under the arm creating a kind of altar piece with inner and outer panels. They also reference comic and zine art with the use of multiple "cells".
Within Come Tees, I have intentionally avoided the language or aesthetic of branding. There is no fixed logo or insignia. Come Tees is an effort to reject the vacancy of brand culture and embrace the anarchism of the creative spirit and the impulse to "state one's name". My intense love of graffiti, pre-historic painting and handwriting is expressed in Come Tees, and in opposition to graphic design, computer and machine lettering. My work is very anti-design.
Each garment is considered a discreet work with its own narrative. I consider the scale and placement of imagery in relation to the body, even to the organs, and the energetic body. I have always been interested in figuration and story-telling that have an origin in religious and folk art but also dadaism and punk. Much of the imagery I use in my work depicts or invokes a kind of inward state. A figure looking detachedly out of a window toward a cityscape, on the edge of town or a person seated within an amulet. I have returned many times to the image of a garden, a metaphor for thought. I often include angels or protective deities but I also like to paint wings on the back of a shirt transforming the wearer themself into an angel.
In 2020, my contribution to the Made in LA exhibition at the Hammer Museum was an open-air "venue" entitled VIVID, the architecture of which was created by large scale paintings or "walls". The space served as a kind of historical recreation or approximation of small venues and artist-run spaces which have been so important in my development as an artist and as a citizen of culture. These have been spaces to maintain contact with a small audience who love extreme ideas outside of generic, conventional or market-driven culture. This piece was a love letter to these spaces and to the artists I curated into three separate exhibitions held within the space.
In the past year, I have become interested again in oil painting. As a bridge to re-enter the realm of oil painting I started a cassette label, Lotus Tapes, and released three albums each one featuring a painting as a cover. The tape covers present the tension between the "private world" essential to a studio practice and a "communal world" engendered by distributing multiples especially when painting is coupled with popular art forms such as music or fashion. Rather the usual trajectory of paintings born from the isolation of the studio into a private art collection I want my paintings to circulate in a more collective culture.