Peter Shire: Rumpus Room
Nov. 3, 2023 – Jan. 13, 2024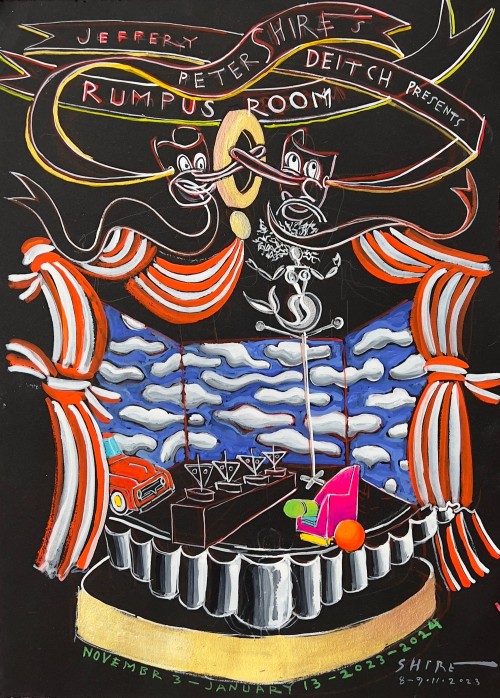 A visit to legendary artist and designer Peter Shire's Echo Park studio is one of the most stimulating art experiences in Los Angeles. Shire will bring the spirit of his studio to Jeffrey Deitch's Los Angeles gallery for his November - December exhibition. The exhibition will include ceramic and metal sculpture and a new series of paintings. Peter Shire is a founding member of The Memphis Group. His work is an important part of the international design discourse, but his aesthetic has become part of the visual language of Los Angeles.
Shire's work explodes modernist form into a celebration of life, bursting with color and kinetic energy. He describes his work as the place where craft, fine art, and industrial design collide. His imagery is distinctive: in ceramics, metal sculpture, or furniture his work is immediately recognizable. His visual signature extends to his customized 1956 Ford pickup and even his clothing. He will be driving his vintage truck into the gallery to activate the exhibition.
Unlike many artists and designers who send out their work to fabricators, Shire creates most of his work by hand in his Echo Park studio. The work integrates craft with modernist form. Subversive humor and playfulness infuse his objects. Shire's blurring of the boundaries between art and design has updated the Bauhaus aesthetic to embrace the pop culture of today's Los Angeles. He tries to make every gesture into an artistic experience – serving his expertly brewed espresso in his hand-made cups to visitors and customizing every surface with his joyous colors. The gesamtkunstwerk of his studio will be transported to the gallery.
Peter Shire was born in Echo Park, Los Angeles, where he still resides. He never attended school more than four miles from his home. He is a graduate of Chouinard Art Institute. Without really leaving Echo Park, he has worked and exhibited around the world.