ALLISON KATZ WESTWARD HO!
Nov. 4, 2023 – Jan. 6, 2024
8980 Santa Monica Blvd
West Hollywood, CA 90069
Directions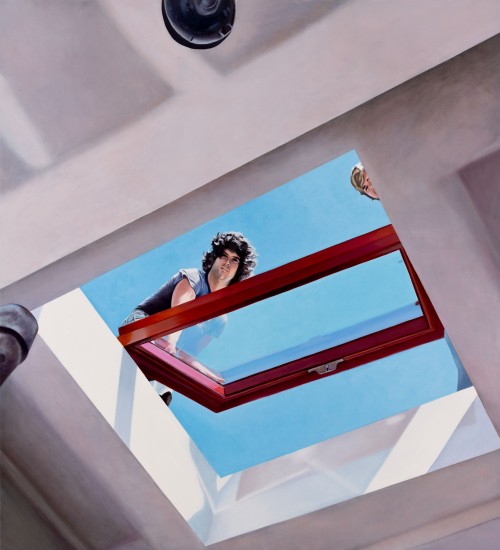 Opening 4 November, Allison Katz's 'Westward Ho!' will fill Hauser & Wirth West Hollywood with the artist's first solo exhibition since joining the gallery in 2022. Katz's deeply personal work addresses the ways in which aesthetic practices link and absorb biography, art history, information systems and commodity culture. The exhibition will feature a selection of new paintings Katz completed during her recent residency in Somerset, alongside site-specific responses to the gallery's 1930's Spanish Colonial Revival building. Katz's paintings are informed – and united – by a relentless curiosity about the ways in which images perform and build meaning. She deftly combines surface materiality, word play and humor with literary and cultural references in works that manifest deliberate and genuine ambiguity. 'Westward Ho!' is Katz's first Los Angeles exhibition and follows her participation in last year's celebrated 'The Milk of Dreams' at the Venice Biennale.
For over a decade, Katz has investigated the ways in which aesthetic practices link and absorb autobiography, commodity culture, information systems and art history. Her diverse imagery, including cocks, cabbages, mouths, fairies, elevators, noses, waterways, and variations on her own name, appear as recurring symbols and icons which build an unending constellation of ideas and references. Images transmute across the media of painting, posters, ceramics and installations. It is through this act of returning to, copying, transforming and reshaping motifs that the artist creates a lineage and continuity from one work to another, informing and connecting the totality with each new appearance. 'I paint like I write, that is, I build around quotes, which is a conversation, in effect,' says Katz. Her subjects are united by a curiosity for how an image passes through embodied experience, while its elasticity of meaning is shaped by impersonal, cultural conditions through time. In this way her work addresses the ambiguity of subjectivity and its presentation.