Christina Fernandez: Subdivisions
Dec. 9, 2023 – Feb. 3, 2024
818 S Broadway, Suite 1001, Los Angeles, CA, 90014
Directions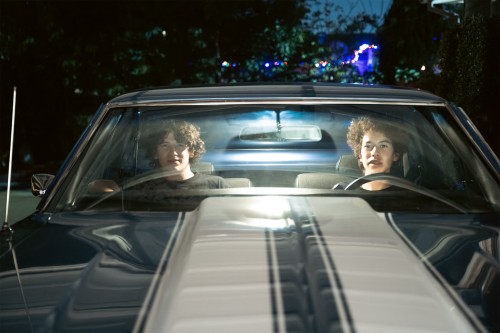 Gallery Luisotti is pleased to present Christina Fernandez: Subdivision, the premier exhibition in the Gallery's new home in downtown Los Angeles at 818 S. Broadway. In this new body of work, Los Angeles-based photographer Christina Fernandez examines life in the suburbs, focused on the life of her teenage son. Subdivision finds Fernandez approaching familiar themes of community and itinerancy in the most quotidian of environments: the stucco, the sidewalks, and the streetlights of Los Angeles.
The photographs in Subdivision follow Diego, Fernandez's son, across the surface of the city. As we see him both isolated and together with friends, what emerges are not just the distinct spaces teenagers occupy, but also the particular atmosphere in which he thrives. "Crepuscular" comes to mind: a word signifying the unique light of the sky just after the sun sets. The term is sometimes used by zoologists to describe the particular creatures who emerge at this time of day, and in suburbia we have a name for such beings: teenagers. Throughout her career, Christina Fernandez has had a remarkable ability to capture communal and familial places that often have quite challenging light sources. Lavanderia (2002-2003) pictures the facades of laundromats, artificially lit from within; the landscapes of abandonment in Sereno (2006-2010); or, View from Here (2016-18) capturing spaces from their abandoned interior looking out. What recurs throughout this work is not just Fernandez's skill in capturing the Southland's light, but that such light expresses a sense of familiarity and inhabitance.
As with much of her previous work, Subdivision's visual interlocutors present a compelling survey of modern depictions of American life – from Robert Adams' Summer Nights (1974), perhaps the most emotive of New Topographics-era photography projects, to the SoCal landscape in the coming-of-age film Rebel without a Cause (1955). Against these precedents, Fernandez's Subdivision charts an equally poignant picture of social connectedness, inevitable solitude, and self-discovery, against a backdrop of residences, infrastructure, and the accouterments of teen self-expression.
Christina Fernandez, Subdivision, will open on Oct. 7 at Gallery Luisotti's new space: 818 S. Broadway, Suite #1001, in downtown Los Angeles. The Gallery will hold an artist's reception on Saturday, Oct. 21. Christina Fernandez, Multiple Exposures, curated by Joanna Szupinska, is on view at the Scottsdale Museum of Contemporary Art through January 7, 2024.
Christina Fernandez (b. 1965) a Los Angeles–based artist, has spent over three decades conducting rich explorations of migration, labor, gender, her Mexican American identity, and the capacities of photography itself. 
She earned her BA at the University of California, Los Angeles in 1989 and her MFA at the California Institute of the Arts in 1996. She is associate professor at Cerritos College in Norwalk, California, where she has been on faculty since 2001. Fernandez's projects have been featured in major exhibitions including Home—So Different, So Appealing (Los Angeles County Museum of Art, 2017), Phantom Sightings: Art after the Chicano Movement (Los Angeles County Museum of Art, 2008), East of the River: Chicano Art Collectors Anonymous (Santa Monica Museum of Art, 2000), Flight Patterns (Museum of Contemporary Art, Los Angeles, 2000), and InSite97 (San Diego and Tijuana, 1997). Her work has also been exhibited at the J. Paul Getty Museum, Los Angeles; Smithsonian American Art Museum, Washington, DC; Museum of Modern Art, New York; Bronx Museum of the Arts, New York; El Paso Museum of Art, El Paso; Palm Springs Art Museum, Palm Springs; Self Help Graphics and Art, Los Angeles; and Galería de la Raza, San Francisco, among other venues. In 2021, Fernandez was one of the first artists honored with the prestigious Latinx Artist Fellowship, an initiative of the US Latinx Art Forum. Christina Fernandez: Multiple Exposures is the first major monographic museum exhibition of her work.