Michelle Lopez: LASSO REPRIEVE
3006 W 7th St, #220
Los Angeles, CA 90005
Directions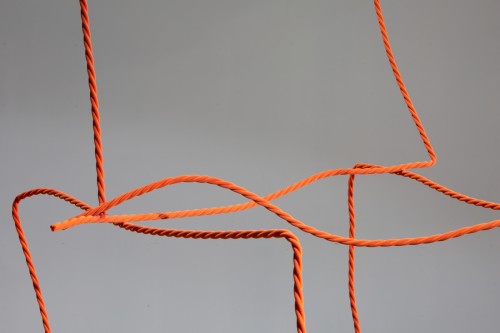 Commonwealth and Council presents Michelle Lopez: LASSO REPRIEVE, an exhibition of choreographed steel ropes and bronze tresses patinaed in chrome or potash. In her first exhibition with the gallery, Lopez continues her inquiry into shifting the viewer's perception, suspending disbelief through material transformation of seemingly mundane objects.
Lopez's installations—precarious assemblages of humble yet labor-intensive materials such as hand-twisted steel rope, pulled glass, bent wood, and street rubble—draw from the aesthetic languages and histories of industrialization, art movements, and the built environment to critique the ways in which dominant narratives, power, and authority shape space. Tracing her work alongside queer and feminist lineages of abstraction, as well as a rigorous research process into her materials, Lopez makes a case for the formal and political stakes of a present-day sculptural practice.
LASSO REPRIEVE warps the historical monumentality of sculpture, reducing volume to suggest presence through a single line of gravity-defying rope. In the series ROPE PROP REVERSAL, Lopez purges density and mass from Richard Serra's One Ton Prop (House of Cards) by retracing its shape in a line drawing assembled with industrial rigging rope. In THREE ROPE PROP, large-scale, open-ended steel ropes form tenuous squares that appear to lean on one another. On closer examination, the forms hover and rise independently, held upright through a careful balance of tension and counterweight. Lopez contradicts the rope's materiality and weight by restructuring its core and torching the steel to make impossible movements and bends. Additional works such as HEMP DREAM and SAFETY DREAM outwardly convey precarity and demise in braids of flocked steel—an argument against the resolute immutability of monuments. Lopez's interest in rope is rooted in building a morphology of defiance (what she calls "hyper-rope") through the process of flocking, in which nylon fibers are electrostatically fused onto the medium's substrate. In its tactility of reinforcement and contradiction, the velvet-like "hyper-rope" breaks from its attendant associations of limpness and restraint to manifest an unfettered support for its own tenuous formation.
In the series GHOST, Lopez further explores evacuations of form modeled from her own hair and other stylized Asian tresses (adapted from an earlier body of work, Akira Revisited). These deflective, mirrored scalps disavow the gaze and the politics of identity—a refusal, and concurrent reiteration of, the violence of disembodiment. Strands of hair, like thick locks of steel rope, crystallize to refute their place within the pantheon of fetishism.
In LASSO REPRIEVE, Lopez considers how the delicate and the ominous may coexist in a poetics of entropy—of material, idol, form, and force. For Lopez, disintegration allows us to imagine the ways in which softness and plasticity can be transmuted into tools of resilience. 
Michelle Lopez (b. 1970, Bridgeport; lives and works in New York and Philadelphia) received an MFA from School of Visual Arts, New York (1994) and a BA from Barnard College, Columbia University (1992). Lopez is an Associate Professor in Fine Arts at the University of Pennsylvania and head of the sculpture program. Solo exhibitions have been held at Institute of Contemporary Art, Philadelphia (2019); Simon Preston, New York (2018); Alt, Protocinema, Istanbul (2016); Galerie Christophe Gaillard, Paris (2016); and Fondazione Trussardi, Milan (2001). Selected group exhibitions have been held at Protocinema, Philadelphia (2020); i8, Reykjavik (2018); Museum of Contemporary Art and Design, Manila (2017); Carpenter Center for the Visual Arts, Cambridge (2017); MoMA PS1, Queens (2000); and Public Art Fund, New York (2000). Lopez is a recipient of New York Foundation for the Arts Sculpture Fellowship (2011), John Simon Guggenheim Memorial Foundation Fellowship (2019), and Sachs Program for Arts Innovation Grant (2019).