FIONA CONNOR Continuous Sidewalk
Continuous Sidewalk
621 Ruberta Ave, #3 Glendale, CA 91201
Directions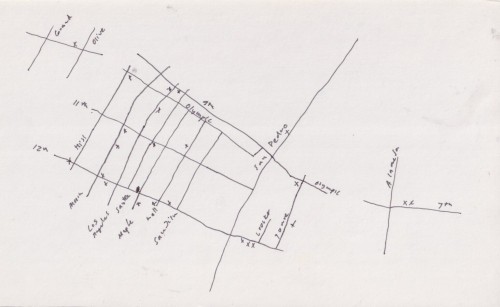 Château Shatto is delighted to announce Continuous Sidewalk, a site-specific single-work exhibition by Fiona Connor. The work is installed at the artist's studio, and has been realized as she prepares to vacate the space after five years of occupancy. Over the last fifteen years, Connor, an artist born in New Zealand and based in Los Angeles, has developed a sculptural language whereby objects and environments are unsettled through processes of reproduction and facsimile. This approach to sculpture is animated by the formal, social and psychological qualities that are harbored within broader, communal spaces. In Continuous Sidewalk, Connor indexes and faithfully reproduces segments of sidewalk located in the Civic Center of Los Angeles. Seamed together as a continuous surface on the floor of her Burbank studio, Connor maintains the cardinal orientation of these sidewalks while imitating their forms and surfaces. The deliberate components that compose a sidewalk, such as asphalt, poured cement, and metal utility boxes, are augmented by the entropy and accretion of contact and time, where sediment, pressure, fissures, marks, and punctures impart human and environmental distinction. In this sense, the work registers the drama of civic life and how dynamic and relational factors interfere with linear intention.
While fundamentally sculpture, the installation experiences a disciplinary over-crowding, whereby techniques of photography, print-making, painting, drawing and performance are employed and then subsumed by a greater whole. This embrace of varied medium-specific processes contributes to a work that exhibits structural and affective elasticity, and more broadly gestures to the highly individuated experience of interfacing within metropolitan sites. Like many of Connor's previous works, Continuous Sidewalk presses upon the connective point of what is subjective and what is collective, or how the associative residue of memory sits on top of material things.
Fiona Connor (b. 1981, Auckland, New Zealand) currently lives and works in Los Angeles, California. She received a Bachelor Degree from the University of Auckland, Auckland, New Zealand and a Masters of Fine Arts from California Institute for the Arts, Santa Clarita, California. Select solo exhibitions include Kunstverein für die Rheinlande und Westfalen, Düsseldorf (forthcoming); Maureen Paley, London; Château Shatto, Los Angeles; Fine Arts, Sydney, Sydney; SculptureCenter, New York; Secession, Vienna; MAK Center for Art and Architecture, Los Angeles; Govett-Brewster Art Gallery, New Plymouth. Select group exhibitions include Hammer Museum, Los Angeles; Coastal Signs, Auckland; Kunsthal Extra City, Antwerp; Henry Art Gallery, Seattle; Gaga & Reena Spaulings, Los Angeles; Institute of Modern Art, Brisbane; Armory Center for the Arts, Los Angeles; 500 Capp Street/David Ireland House, San Francisco. Connor's work is included in the following collections: Adam Art Gallery, Victoria University, Wellington; Art Gallery of New South Wales, Sydney; Auckland Art Gallery Toi o Tāmaki, Auckland; Burger Collection, Hong Kong; Chartwell Collection, Auckland; Christchurch Art Gallery Te Puna o Waiwhetū, Christchurch; Collezione La Gaia, Torino; Dunedin Public Art Gallery, Dunedin; Govett-Brewster Art Gallery, New Plymouth; Hammer Museum, Los Angeles; Los Angeles County Museum of Art, Los Angeles; Museum of Contemporary Art, Los Angeles; Henry Art Gallery, University of Washington, Seattle; Monash University Museum of Art, Melbourne; The Museum of New Zealand Te Papa Tongarewa, Wellington. Kindly note this is an off-site exhibition in Glendale, California.
For inquiries or to schedule an appointment viewing of Continuous Sidewalk, please contact gallery@chateaushatto.com