LÉA MESTRES: FAMILY BUSINESS
7070 Santa Monica Blvd
Los Angeles, CA 90038
Directions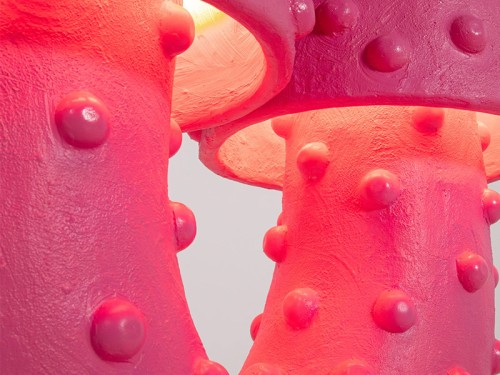 To stand among Léa Mestres' outsized sculptures is to journey through the looking glass and enter a world of the French artist's colourful imagination. Her show Family Business is reminiscent of Carsten Holler's rooms filled with giant mushrooms, or Nikki de Saint Phalle's iconic Tarot Garden in Italy. Mestres draws from a wide range of popular culture, from the absolute pink of fashion designer Valentino to rapper Missy Elliot's music videos, condensing this vivid imagery into the textured columns of her sculptures which also reference crépi, a rough concrete plaster ubiquitous across France and Europe. Highly research-driven, Mestres counters notions of 'feminine art', ignoring expectations, re-appropriating stereotypes and prioritising joy in her work at all costs. Named after friends of hers, Mestres' three towering artworks Stacy, Suzy and Jessy are all personified as larger-than-life characters.
Harry Nuriev, Léa Mestres and Martin Laforêt present concurrent solo shows at Carpenters Workshop Gallery Los Angeles, entitled Denim House, Family Business and Variations respectively. Although presented separately, the exhibitions provide a cohesive look at the talents of the three artists currently defining the next generation of contemporary art.
Click to RSVP: losangeles@carpentersworkshopgallery.com
Léa Mestres is a French artist and designer based in Vernon, Giverny.
Mestres counters a design world that in her opinion often feels too serious and too masculine. She stands out with fun, colourful objects, which are intentionally bright and breezy as a reflection of her own personality. It is vital to the artist that she design objects that bring joy to others, rather than something elegant but characterless. She finds inspiration in the absurd, citing her frequent trips to the Salvador Dali Museum in Figuras, Spain, as particularly impactful. Idiosyncrasies like the stylised pattern of brioche and eggs that cover the museum's walls have influenced the unrepressed expression in her work.
This exhibition features three new sculptural lamps from her debut Craving for Crepi collection. Mestres first sculpts each piece by carving into foam, then covers them in her own plaster recipe. Her functional artworks are premeditated through sketching and drawing, but Mestres pinpoints the tactile creative process as the time when she impregnates each work with its individuality. Embracing childish impulses, Mestres likes playing with scale and sometimes makes ridiculously big objects.
Each unique piece in Craving for Crepi is given a woman's name, heightening a sense of anthropomorphism. Recently these have been the names of her friends' grandmothers, who she can imagine sitting in the show chatting amongst themselves.