HARRY NURIEV: DENIM HOUSE
7070 Santa Monica Blvd
Los Angeles, CA 90038
Directions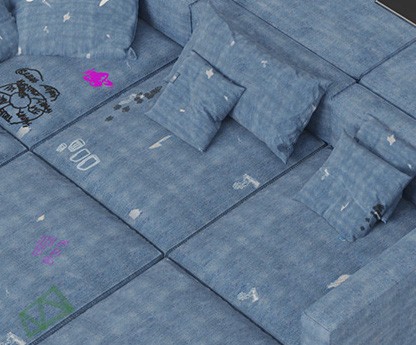 Harry Nuriev's Denim House presents a total environment that merges a luxurious lifestyle with function and expression. Denim House realises Nuriev's dreams of an idealised family room, set within the domestic culture the artist sees as particular to Los Angeles. Following his previous show Denim, he has dived deeper into the nuances of denim as a statement material and has embellished the artworks for this exhibition with hand-embroidered writing, additional stickers, and extra furnishings such as the new dining tablecloth. The artist is a pioneer of transformism, a manifesto that overlaps aspects of fashion, art and architecture simultaneously. Through this collection, Nuriev intends to enable the same levels of personal expression as seen in street fashion within a home environment.
Harry Nuriev, Léa Mestres and Martin Laforêt present concurrent solo shows at Carpenters Workshop Gallery Los Angeles, entitled Denim House, Family Business and Variations respectively. Although presented separately, the exhibitions provide a cohesive look at the talents of the three artists currently defining the next generation of contemporary art.
Click to RSVP: losangeles@carpentersworkshopgallery.com
HARRY NURIEV (b. 1984) is a New York and Paris-based artist, architect and interior furniture designer as well as the founder and creative director of Crosby Studios, an interior architecture and design studio established in 2014. Nuriev's creative practice spans a broad range, including immersive environments, virtual installations, public spaces and object design. All are created through the lens of 'Transformism' — a movement Nuriev invented to describe practices that prioritize transformation and transformative experiences that are around him to describe his world and style. Nuriev pushes his passion for experimentation with design for innovative retail spaces and Web3 within the digital realm, and draws inspiration from the unexpected beauty of everyday objects we engage with.Through this process he aims to create extraordinary statements about today's society based upon relevant, yet conventional items and moments. Nuriev takes people out of their comfort  zone and distracts their attention to feel a new feeling and pay attention to things he finds important and conveys this through his work. His reconstructive style fuses art, design, architecture and fashion, breaking the boundaries that have traditionally separated these four creative fields to challenge broader ideas about how we live and work.