Black California Dreamin': Claiming Space at America's Leisure Frontier
Aug. 5, 2023 – Mar. 31, 2024
600 State Dr, Exposition Park
Los Angeles, CA 90037
Directions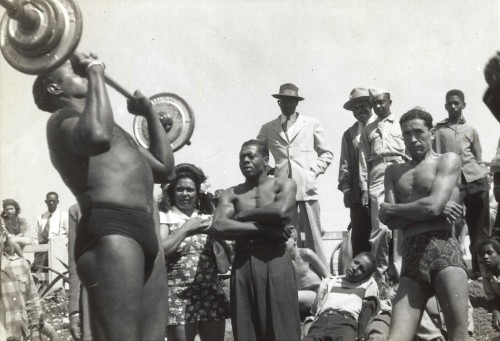 Access to nature, recreation, and sites of relaxation—in other words, leisure—is critical to pursuing the full range of human experience, self-fulfillment, and dignity. Black California Dreamin': Claiming Space at America's Leisure Frontier illuminates Angelenos and other Californians who worked to make leisure here an open, inclusive reality in the first half of the twentieth century when Southern California was reimagining and positioning itself at the center of the California and American Dreams. In shaping recreational sites and public spaces during the Jim Crow era, African Americans challenged white supremacy and situated Black identity within oceanfront and inland social gathering places throughout California.
Black California Dreamin' features historical photographs and memorabilia along with contemporary artworks that illuminate these leisure practices. The objects tell stories of self-determination, leadership, geographic and social mobility, beauty and gender standards, and cultural identity. African Americans helped define the practice and meaning of leisure in California as they faced emerging power politics around who gets access to naturescapes and other public spaces. In doing so they set the stage for these places as symbols of invention and sites of public struggles still reverberating today.
This exhibition is curated by Alison Rose Jefferson, independent historian, curator, and author of Living the California Dream: African American Leisure Sites during the Jim Crow Era.