Guillaume Dénervaud: Synthetic Splinter
709 N Hill St, Suite #105
Los Angeles, CA 90012
Directions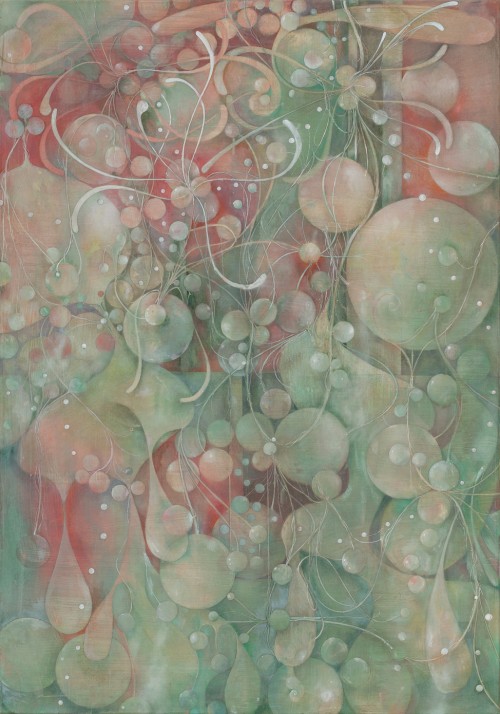 Bel Ami is pleased to present Guillaume Dénervaud's first US solo exhibition, Synthetic Splinter. 
We are now immersed in the real-life version of what writer Bruce Sterling called in his 1994 sci-fi novel, "heavy weather:" a constant barrage of disasters caused by a runaway greenhouse effect. Guillaume Dénervaud is gripped by dystopian novels and films that have accurately predicted the current planetary condition, which is dire and yet neglected. Through painting, drawing, and sculpture Dénervaud generates fictional ecosystems that are otherworldly and also frighteningly evocative of the bleak and volatile environments we must weather every day.
Guillaume Dénervaud renders dense forests of organic and engineered forms using stencils and templates he has collected. These templates include traditional architectural French curves and various ellipses, as well as branded stencils used by real estate agents and furniture designers to sketch diverse industrial elements: the curve of a wall, the shape of bathroom fixtures, plumbing, electrical wiring, etc. As CAD has made these tools mostly obsolete for commercial use, Dénervaud redeploys them to create various visions of the future built on the remnants of today's industrialized society. These new anticipatory scenarios of dystopian scapes seem more like disrupted habitats than deliberate plans, with mutant flora, overgrown invasive species, rusting motor parts collecting silt in lakebeds, and living tissue merging with electronic circuitry. Flowing shapes reminiscent of parasitic plants or cancerous cells proliferate. Dénervaud infuses the systems with life by using ink and oil paint made from plants, algae, and minerals: the colors don't only represent nature, they are derived from nature itself, crushed and dissolved and stirred.
For the exhibition, Guillaume Dénervaud has also constructed a series of hanging metal sculptures that are evocative of propellers and flower petals. Their sharp and severe laser-cut steel profiles loom overhead; it's unclear if they are benevolent or menacing. A study in biomimetics, the gear-like forms recall a cyclical pattern of technology imitating nature, nature adapting to industrial development–and Dénervaud subtly implies that art may play a pivotal role in this haphazard way of building. In this enclosed environment, we are invited to confront a changing, unstable ecology and envision a livable outcome for future generations.
Guillaume Dénervaud (b. 1987, Fribourg, Switzerland) lives and works in Paris. He studied at the École des arts appliqués, Geneva and at HEAD, Geneva. Dénervaud's solo shows include Swiss Institute, New York (2023) (forthcoming); Surv'eye, Centre D'édition Contemporary (CEC), Geneva (2021); Zone Furtive, Balice Hertling, Paris (2019); Inversens Clinic, Alienze, Lausanne (2019); and Spectrolia Corporation, Hard Hat, Geneva (2018). Group exhibitions include La main-pleur, Fri Art Kunsthalle, Fribourg (2022); Des corps, des écritures, Musée d'art Moderne de Paris (2022); Aquarium, Maison Populaire, Montreuil (2022); Les formes du transfert, Les Magasins Généraux, Paris (2021); Emblazoned World, Bel Ami, Los Angeles (2021); Le sain ennui, BQ Gallery, Berlin (2021); Your Friends and Neighbors, High Art, Paris (2020); and L'Oranger, LiveInYourHead, Geneva (2017). Dénervaud participated in the Swiss Institute residency program, New York (2021). His work is in the collections of the MAMCO, Geneva; and the collection of the Musée d'art Moderne de la Ville de Paris.