RICHARD MENSAH
5351 W Adams Blvd
Los Angeles, CA 90016
Directions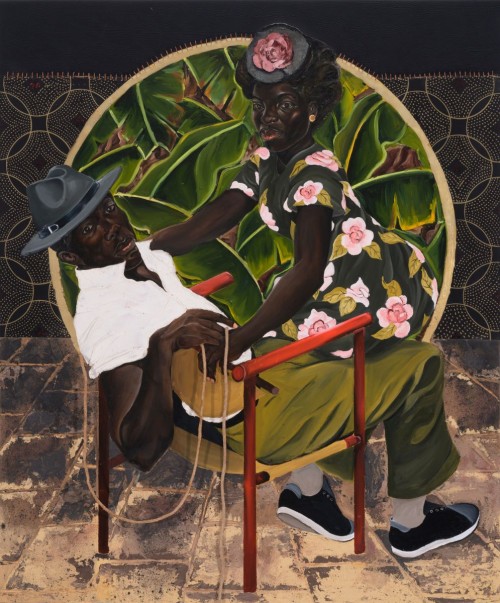 TANGLED EMBRACE is a series of multi-media paintings that explores the profound and complex connections shared between black couples across the global African diaspora.
By combining canvas, oil paint, leather, and a jute rope, the series aims to evoke the intertwining narratives, experiences, and emotions that bind these couples together. The use of canvas and oil paint forms the foundation of the pieces, symbolizing the traditional medium of artistic expression. It represents the strength and resilience of black love throughout history, as well as the timeless beauty found within these relationships. The vibrant colors and expressive brushstrokes communicate the vitality and passion that exist within the bonds of black couples.
Integrating leather into the pieces speaks to the idea of protection and strength. Leather, a durable and resilient material, represents the ability to weather challenges and adversity. It signifies the protective embrace that black couples provide for one another, as well as the ways in which they navigate societal pressures and systemic barriers together.
The inclusion of a jute rope introduces an element of interconnection and interdependence. The rope symbolizes the ties that bind black couples, representing their shared experiences, struggles, and triumphs that they navigate as a unit. It also highlights the importance of communication, trust, and mutual support in fostering healthy and thriving relationships.
Tangled Embrace seeks to celebrate the beauty and complexity of black love, while acknowledging the unique dynamics and challenges faced by black couples. Through its multi-media composition, the artworks invites viewers to reflect on the interconnectedness of these relationships and to appreciate the strength and resilience embodied within them.
"Richard Mensah's masterful, technical acuity envelops the viewer, drawing us closer, to explore the various medium used in creating these works. Mixing unconventional materials with traditional ones, Mensah elaborates on his signature style, imposing a three-dimensional component to the works discovered in this series". - Terrell Tilford, Creative Director