Reuben Gordon
1923 S Santa Fe Avenue
Los Angeles, CA 90021
Directions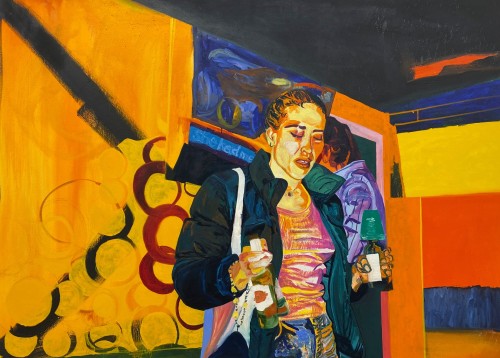 Baert Gallery is pleased to announce You Already Know, Reuben Gordon's second solo exhibition with the gallery, on view from November 4 to December 16, 2023.
Born and raised in Manhattan Lower East Side, Reuben Gordon applies virtuosically skillful finesse to paintings that feature scenes of daily urban life evocatively specific to, and imbued with, the spirit and ethos of their setting: overpass graffiti tags, billboards, and street signs, alongside stolen episodes of the day-to-day that capture the meaning of being young in the city: bar and apartment parties, sports games, dizzy car rides, and sneaky kisses. 
Bridging the case between photorealism and expressionism, the crisp immediacy of line and palette characteristic of Gordon's canvases belie the depth of meticulous technique and attention to detail that goes into the process of these works' creation. The paintings begin their lives as film camera photos, spontaneously snapped by the artist at opportune moments of daily life. Back at the studio, they are fastidiously transferred onto canvas through a highly skilled and thoughtful technique that involves printing the original images and suspending them alongside empty canvas, then using precise measurement and mathematical calculations to replicate the foundational scenes in freehand and paint. With that original outline in place, the artist then departs from the point of direct reference and allows his own emotional state and personal narrative to dictate the coloring and the expressive gestures of the final paintings. In this way, his decisively contemporary scenes speak the language of Desus & Mero through the idiom of Arshile Gorky and Richard Estes. 
Gordon's recent move to Los Angeles is reflected in the renewed intensity of hue and a sense of abstraction. This relocation of the artist's daily visual matrix from the muted urban density of New York City to the open vistas and sun-burned colors of Southern California has prompted Gordon to delve even deeper into the exploration of Manhattan's (and occasionally Brooklyn's) streets and characters. "The landscape of the Lower East Side, the East Village, and Brooklyn, and the fun-loving people I grew up with there", he observes, "formed my internal architecture, as did the special kind of melancholy that exists in the desire for a colorful life." Now removed from the immediate access to that setting, the artist has found a capacity for a renewed fervency of color and abstraction in which he bathes his latest landscapes.
As Gordon himself has summed up this process, it is "trying to expel a nameless energy onto a canvas, in longing, hoping that your expressions relate to the universal, even though they come from an individual in solitude. This longing, and exteriorizing the unconscious, results in an anxious explosion of beauty that is objective and plastic at one and the same time".