Fulton Leroy Washington
Artist Visit
July 9, 2020
As part of a series of new content generated in conjunction with the Hammer Museum's Made in L.A. 2020 biennial titled a version, Gallery Association Los Angeles (GALA) presents video profiles on the biennial's curators and selected artists.
Each and every one of Fulton Leroy Washington's (also known as Mr. Wash) paintings include enough negative space to form a clock. "I have no thought of time," sings Nina Simone, "Who knows where the time goes?" Time, for Mr. Wash, is no more. Clocks in prison, however, were extremely useful, Mr. Wash tells us during our studio visit.
In the late 1990s, Mr. Wash was wrongfully convicted of a nonviolent drug offense and sentenced to life imprisonment—the mandatory minimum appointed during the era of the "War on Drugs." On May 5, 2016, President Barack Obama commuted his sentence and granted Mr. Wash clemency. During those twenty-one years in prison, Mr. Wash began to draw (so realistically that his legal team was able to locate a witness from one of his photo-realist sketches) and, eventually, paint.
Just as they function as markers of passing time and specific moments in time—painting even from memory of past times—Mr. Wash's photorealist paintings also function as a form of language and communication for the artist. Mr. Wash ascribes a sort of utility to each painting whether that be palpable time, expression, or imagination. This utilitarian sensibility stems from Mr. Wash's backgrounds in production and creation, ranging from making new toys out of broken ones his mother would bring back from her job at Mattel in El Segundo, California during his childhood to working at his own construction company as a young adult. Eventually, he began to paint portraits for his former fellow inmates. Time, while indicating a linear progression towards his foray into fine art, holds beyond practical terms of linear and spatial recognition. Instead, Mr. Washington's portraits portray intense emotions against imaginative contexts that reach towards metaphysical, cathartic terrain.
Faces, often streaked with tears, fissured with anxiety and traumas complicate the more fantastical, picturesque scenes and gravity-resistant paraphernalia that adorn Mr. Wash's portraitures. During our visit, we found Mr. Wash continuing his portraiture for his community, mailing out a 2020 graduation cap he had painted on while talking of family and friends hoping to visit for the Hammer Museum's upcoming 2020 Made in L.A. biennial, in which Mr. Wash will be participating.
Other works include radical imaginings of newspaper headlines and historical events, such as Emancipation Proclamation (2014), a painting of President Obama's granting of clemency to the artist. This painting, he argues, led to his clemency—not unlike Foucauldian lines of thought where desire generates agency and willed action. On time-travel, trauma, and willing, filmmaker and writer Jalal Toufic quotes William Blake's Auguries of Innocence: "To see a world in a grain of sand / And a heaven in a wild flower / Hold infinity in the palm of your hand / and eternity in an hour". He attributes amor fati to an ill-reached will caught in a countless loop of reoccurrences of the everyday. The recurrence of trauma, as Toufic explains, loops generationally. The only way out is such willing and time travel. Mr. Wash, in his own form of time-bending, similarly breaks this loop and amor fati—all in his hands.
—Perwana Nazif
Produced by Reza Monahan Studio
Cinematography by Sean Morris
Edited by Walker Sayen
Video courtesy of Fulton Leroy Washington, Melahn Frierson, and Gallery Association Los Angeles (GALA)
Artist Visit
June 25, 2020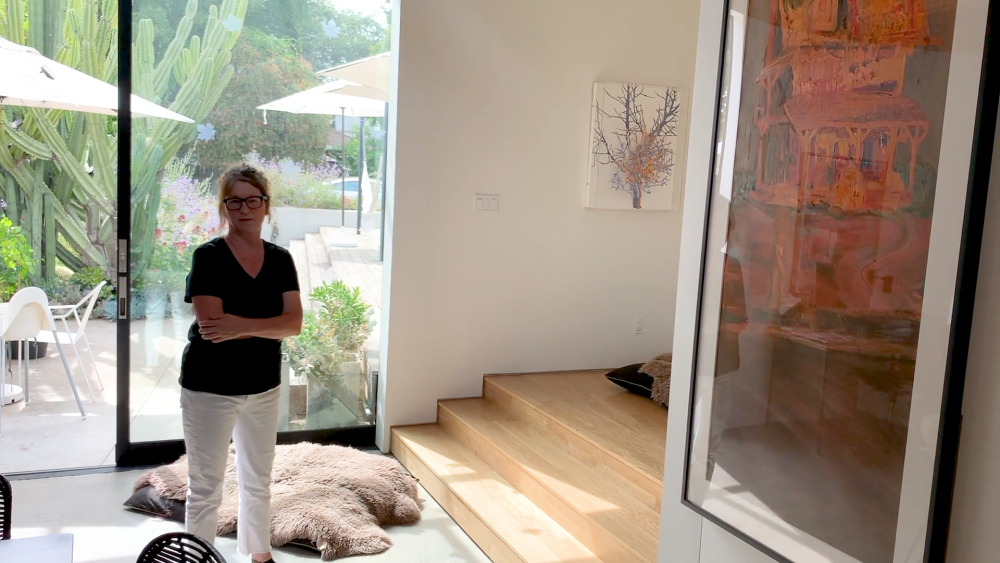 Gallerist Visit
June 24, 2020
Gallerist Visit
June 18, 2020