Loser Angeles Earth Days
Simchowitz Pasadena
2785 E Foothill Blvd, Ste 100
Pasadena, CA 91007
Directions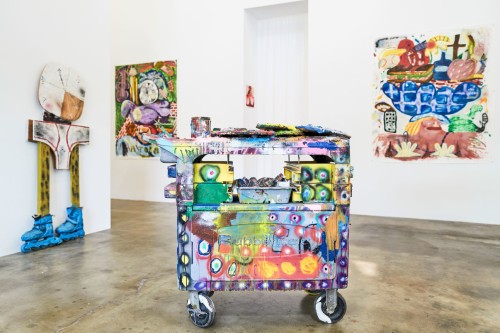 For his first exhibition at Simchowitz Gallery, Loser Angeles (alter ego of artist Zac Hoffman) presents a filled-to-the-brim, action-packed, joyful series of paintings made using oil, oil stick, aerosol, charcoal, acrylic, lacquer, and watercolor on canvas or paper. Subjects include sports, cars, food, and nature, and each work encourages a celebration of life via the highlighting and monumentalizing of everyday occurrences and things. Nissan, 2021, for example, features a figure with a shrunken head and large torso wearing a revealing shell bikini. Atop the person rests a brick bowl carrying various objects, seemingly the recreational contents of the individual's brain: a hamburger, a beach umbrella, a car with painted flames, a shiny red apple, and a palm tree. Even commonplace items, it seems, can kick off a great time. 
In the titular Earth Days, 2023, a figure sporting two watches plays a guitar with two necks. The painting teams with life's pleasures: ice cream, flowers, a soccer ball, bananas, a plant, the sun. The name of the piece, and the show, sounds like post-life reminiscing: "I remember those days on Earth." By emphasizing the joy in the mundane, Hoffman inspires us to appreciate our lives while living them. References to mortality can be found in other works in the exhibition: Lady Death, 2020, alludes to the end-of-life specter following the main character in the final novel by Charles Bukowski (an often-referenced figure in Hoffman's work). In Hoffman's hands, the imminence of death becomes an opportunity for merriment: Instead of digging a grave, the person in the painting, sporting a cowboy hat and boots, uses a sharp shovel to cover children with sand, surrounded by the ocean and stars. Despite our pending demise, we can revel in our existence and still have some fun today. 
Titles of works in the show give examples of various delights to be had on earth: BBQ at Susan's; Beach Vendor; Bono Concert After Party; Meatball Sub (all 2023). The last piece on the list showcases a hand giving a thumbs up, a mushroom, the sandwich itself rendered as a sports car, and a clock featuring the word toyota. While the scene could double as a vehicle ad, the joy here feels unironic. Thank You (Rocking Chair), 2022, portrays a muscular, smoking character in a scallop two-piece bathing suit drinking a martini in a brightly colored home. A look outside the window reveals an idyllic day: a rainbow, flowers, the ocean. Inside, more flowers, as well as sports paraphernalia, appear in various corners. Everything seems to be working out well. A plastic white-and-red bag shopping labeled "thank you" reiterates this fulfillment, and reminds us also to be grateful for all the things we've got.