Collin Sekajugo: Pandemic Paintings
Simchowitz DTLA
727 East Washington Blvd
Los Angeles, CA 90021
Directions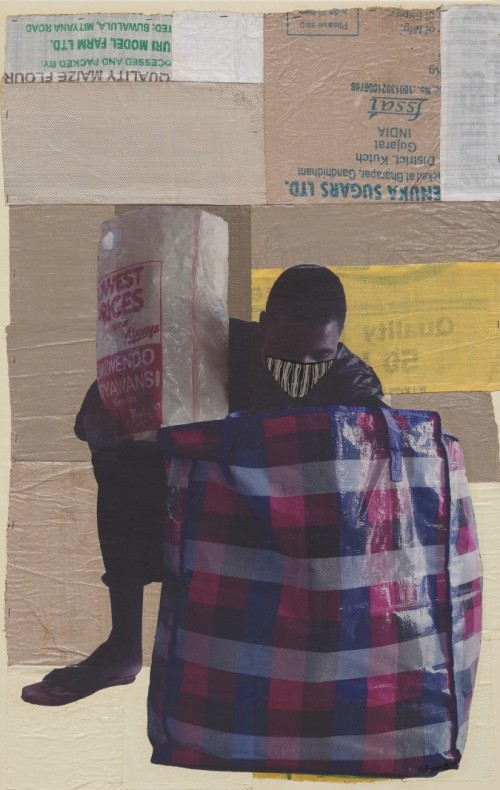 We are pleased to present an exhibition of works from the Simchowitz Collection. This series showcases contemporary art with a special focus on Africa in our Los Angeles spaces. Simchowitz Collection exhibitions deepen our longstanding efforts to support contemporary art and artists globally.
Sekajugo's work spans performance, sculpture, painting and collage. The works in Pandemic Paintings reflect the artist's use of collage as a painterly practice. All were made during the height of Covid, and each began with common, everyday materials—shopping bags, barkcloth, food packaging, and newspaper articles sourced from local shops who were trying to help during the crisis. Each surface was built up and often sewn together to create entirely flat backgrounds. His figures too, most of whom are also in the process of helping, are composed of relevant materials, such as contentious newspaper articles that were adding hype to the pandemic. It's a practice that some have dubbed 'cosmology building,' where the artist attempts to build alternative cosmologies that reflect the current, changing meaning of race within the global context of today, but it's also an intriguing take on contemporary painting, where spare but lyrical compositions reflect both the African experience, and its long tradition of 'up-cycling' found materials.
Born in 1980 in Masaka, Uganda, Sekajugo lives and works between Rwanda and Uganda, and is considered one of the brightest emerging talents from East Africa. In 2022 he received a Special Mention Award (with Acaye Kerunen) for outstanding achievement at a national pavilion (Uganda) when his work appeared at the Venice Biennale. Sekajugo's art has been exhibited in solo and group exhibitions across Uganda, Rwanda, Kenya, Dubai, the United Kingdom, Denmark, and the United States. His work resides in the permanent collection of the Smithsonian National Museum of African Art, Washington D.C.  He is currently represented by Blum + Poe in Los Angeles. Sekajugo's creative interests extend beyond his own practice to increasing the visibility of art from the places he calls home. He is the founder of RWAndA-n-Art Magazine, the Ivuka Arts Center in Kigali, Rwanda and the Weaver Bird Arts Community in Masaka, Uganda, all of which nurture and highlight art in his local communities.