Virtuous Virtuosity: Katelyn Ledford
612 North Almont Dr
Los Angeles, California 90069
Directions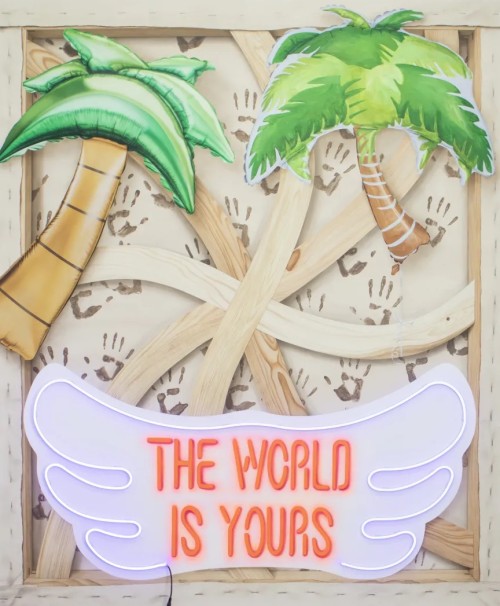 Katelyn Ledford's paintings ask the viewer to reflect and take their time in examining our image-saturated, emotionally-charged and constructed existence. Her portraits are not of specific individuals, but rather curated depictions that reflect both personal and universal experiences of what it means to be a woman and an artist. Katelyn draws on her diverse skill set to create her still-life paintings and deconstructed portraits, reflecting the various ways in which we interact with the world in the 21st century. Her use of images and materials from precise and lifelike trompe-l'oeil and photorealism to impasto, conveying a deliberate sense of authenticity and artifice to explore the relationship between artist and viewer. Katelyn's artistic style is characterized by a mix of cynicism, humor, and absurdist logic.
In Virtuous Virtuosity, Ledford investigates the artist's studio experience, juxtaposing it with lighthearted contemplations on Los Angeles and its associated stereotypes. In Welcome!, Ledford subtly engages her audience. She employs trompe-l'oeil to render the illusion of a painting's backside, complete with simulated spiraling and interlocking wood joints. Balloon palm trees, an homage to Los Angeles, flank the canvas. The left palm tree boasts an exact replica of a balloon, from its glossy surface to its bubbled curvature, while its counterpart on the right appears somewhat cruder. Despite sharing characteristics with the left palm tree, including curvature and glossiness, the right one exudes a less polished, hand-painted quality. The faux neon sign proclaiming, "The World Is Yours," situated at the bottom, teases viewers as the painted text mimics neon while surrounded by actual neon lights. Ledford challenges viewers to discern fact from fiction within the piece.
Throughout the exhibition, Ledford incorporates allusions to historical artworks as a means of examining the theme of the artist in the studio. In Shroud of Artist, she references the Shroud of Turin to comment on the artist's presence in the studio. The depicted t-shirt is modeled after one Ledford wore in her studio, while the clown serves as her self-portrait. In Art Imitates Life and Life Imitates Art, Ledford cites Hans Holbein the Younger's The Ambassadors. Holbein's painting prominently displays two ambassadors at Henry VIII's court but also conceals a distorted skull rendered in anamorphic perspective, posing a puzzle for viewers. In Life Imitates Art, Ledford directly quotes Holbein with a faithful recreation of his skull, while in Art Imitates Life, she devises a puzzle for herself, reconstructing the skull with rhinestones and reassembling it stone by stone. Together, the two paintings function as Russian nesting dolls. They integrate elements of reality and the painterly universe, oscillating between each painting. They tease each other and the viewer by mirroring similar techniques, but in slightly different locations. Ledford aims to immerse her audience in her world and her studio while also engaging them in a playful manner. She compels viewers to examine the paintings more closely, transforming them into puzzles, and encouraging them to find pleasure in the process.
Virtuous Virtuosity transcends the boundaries of traditional portraiture, challenging the viewer to delve deeper into the intricacies of her work. Through her unique fusion of wit, cynicism, and absurdist logic, she invites the audience to embark on an intellectual and emotional journey that encompasses both the personal and the universal. By seamlessly blending elements of reality and illusion, Ledford deftly weaves a narrative that not only provokes introspection but also celebrates the enigmatic nature of the creative process.
Katelyn Ledford was raised in the American South. She received her MFA in Painting at the Rhode Island School of Design in 2019 and her BFA from the University of Alabama at Birmingham in 2017. Recent solo exhibitions include Pleased as Punch at Long Story Short Gallery, New York, NY; Underbelly at Aishonanzuka, Hong Kong, China; and Plastic Smile at DUVE Berlin, Germany. Select group exhibitions include those at Monya Rowe Gallery, New York, NY; Mindy Solomon Gallery, Miami, FL; Unit London, London, UK; WOAW Gallery, Wan Chai, HK; and Plan X Art Gallery, Milan, IT. Ledford lives and works in Boston, MA.