Maarten Baas: Play Time
7070 Santa Monica Blvd
Los Angeles, CA 90038
Directions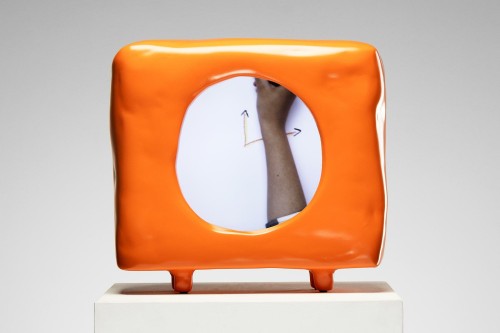 Carpenters Workshop Gallery is pleased to announce Maarten Baas' Play Time, Maarten's first solo exhibition on the U.S. West Coast. Play Time will be held at the gallery's Los Angeles location, opening during Frieze LA on February 14th 2023.
On view will be his latest Children's Clocks. This new body of work consists of 101 unique pieces, each crafted in Baas' signature clay and part of his Real Time series. Baas' work is centred around playfulness, childlike expression and purposely naïve shapes and Children's Clocks takes this idea one step further. Maarten worked with 720 children in the Netherlands and asked them each to create one of the 720 drawings illustrating the time in these clocks.
"My work is often a self-portrait of my inner journey, finding a balance between the wisdom you gain and the open-mindedness you lose along the way"
720 Minutes Clock: 720 children, 720 drawings, 720 minutes.
"As an adult you develop a lot of qualities. But hardly anyone can make a nice drawing. Yet, every child makes the best drawings time and time again. Their purity and originality is often better than any respected artist. That's why I've always been interested in artworks of Dadaism and Art-Brut."
Throughout his career, Maarten Baas has often worked with deliberate naivety and a focus on playful experimentation.
Baas' 720 Minutes Clock consolidates these childlike instincts into his Real Time series, as for this series he actually asked children to draw the hands of a clock. During an intense project involving 720 children, this extraordinary work was created. In total, 720 unique drawings are used to indicate the time across 720 minutes (12 hours), the summation of months of preparation, filming and editing.
The housing of these latest additions to Baas' Real Time series is made as a continuation of the artist's iconic Clay collection, in a Limited Edition of 100 pieces, each in a unique colour.
Maarten Baas (1978) is a Dutch designer, who graduated from the Design Academy Eindhoven in 2002. His studio is based in 's-Hertogenbosch (NL).
Baas is considered one of the most influential artist designers of the early twenty-first century. His works straddle boundaries between art and design. He occupies a unique position in the field, embodying conceptual art, craftsmanship, installation, public space and performance into his oeuvre. He's known for his rebellious, intellectual, theatrical and artistic style. Baas' most renowned works are Smoke, Clay and Real Time, that gave him instant worldwide recognition. In 2009, he was named 'Designer of the Year' at Design Basel/ Miami. In 2012, the New York Times listed both Smoke and Clay in its 'Top 25 Design Classics of the Future'. In 2016, Baas won the Artprize for his Real Time Sweepers clock.